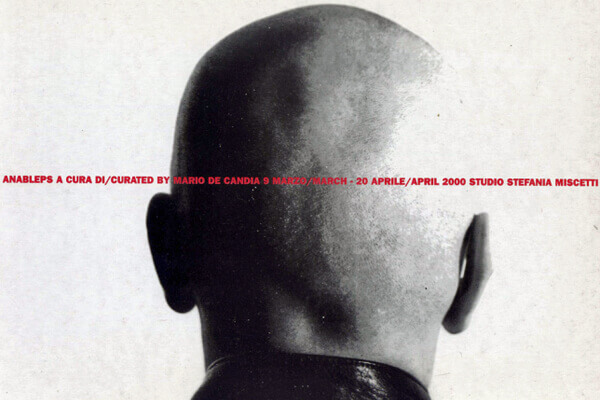 group exhibition
curated by Mario De Candia
exhibition opening:
thursday march 9th, 2000 – 6.30pm
exhibition closing:
april 20th, 2000
opening hours:
tuesday to saturday, 4-8pm
ANABLEPS: viviparous fish found in tropical America that swims on the surface of the water; half of its eye has significantly better sight above water, in the open air, and weaker underwater.
ANABLEPS is a reflection on contemporary portraiture as a genre. Based on an idea by the curator Mario de Candia, the exhibition considers the profound changes that the portrait form has undergone in the arts in recent times.
With this in mind, all the artists that have contributed to the life of the gallery over the decade of its existence were called upon to take part. Each was asked and invited to submit a portrait – but providing it had been filtered through the work of another artist, with whose oeuvre the submitting artist identified.
The artists were therefore asked to try out a new, distinct approach, one which might offer them indications or direct them towards another way of portraying others or themselves – not based on physical appearance or particular physiognomies, but more deeply through a recognition of a shared understanding.
The exhibition is therefore constructed as a framer's gallery of "double-portraits", with a continuous doubling up and counterpointing of the two subjects' identities: on one hand the identity of the artist that had to choose, and on the other that of the artist whose work they chose.
Catalogue presentation: Monday 17 April 2000 at 7.30pm
Read and download the exhibition's press release.
presents
presents
presents
presents
presents
presents
presents
presents
presents
presents
presents
presents
presents
presents
presents
presents
presents
presents
presents
presents
presents
presents
presents
presents
presents
presents
presents
presents
presents
presents
presents
presents
presents
presents
presents
presents
MELATI SURYADARMO-LÜTZ
ROBERTA SILVA
NICOLAUS HEINRICH
ETTORE SPALLETTI
MARINA PARIS
STANLEY HOWDEN
PETROC SESTI
TINA BARA
MICHAEL KIENZER
LAURETTA VINCIARELLI
WOLFGANG TILLMANS
MAURA SHEEHAN
MANFRED ERJAUTZ
JORGE EIELSON
CAREL LANTERS and JAN WICRDA
ARNULF RAINER
KRZYSZTOF BEDNARSKI
JAN FABRE
ANDREA CUSUMANO
KARL LAGERFELD
CORNELIA PARKER
MADE IN ERIC
PAOLO BRESCIANI
MARCIAL LYONS
FEDERICO MION
LUIGI SERAFINI
MARINA BALLO CHARMET
NICOLA BOLLA
CATERINA SABAN
LEON GOLUB
LINO LO PINTO
NATALY MAIER
DENA SHOTTENKIRK
LUIGI ONTANI
DANIEL SPOERRI
ANGELA FISHER and CAROL BECKWITH