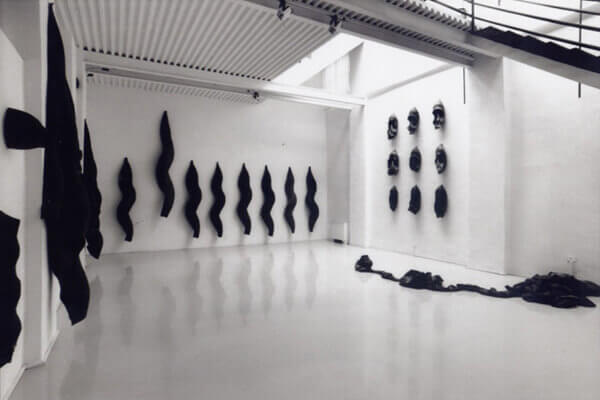 biography.
PAOLO CANEVARI (born Rome, 1963) is an Italian contemporary artist. He lives and works in New York and in Rome.
He is one of the Italian internationally recognized artist of his generation, known for using different kind of materials and media like animation, drawing, video, sculpture and installation. Paolo Canevari presents highly recognizable or even commonplace symbols in order to comment on such concept as religion, the urban myths of happiness or the major principles behind creation and destruction.
Starting as a sculptor the artist treats the rest of his work also as a drive to turn the passive state of mind into an energetic, creative act. His adoption of the medium of video is associated also with his desire to make images which are ephemeral yet visually striking. His recent video works can be seen as a form of ephemeral sculpture which rejects the rhetoric about eternal monuments.
From 2011 Paolo Canevari begins the Monuments of the Memory series; a research based upon the traditional mediums of painting, sculpture and drawing. Working on the declination of techniques and languages the artist examines the concept of absence, personal aspects, intime and interior in relationship to the work of art and its universal meaning.
Even if investigating in a recognizable artistic and cultural patrimony of forms and dimensions, the artist brings the attention on the absence, on the power of individual imagination, on the concept of identity, disconnected from the rampant need of a social recognition and lastly upon the necessity to construct a one's own iconography, not conditioned by the continuous visual incitements of the consumerism.
As he underlines in one of his statement: "I believe that the most important inspiration for an artist's work is people's way of thinking. Spirituality, as part of the human condition, brings with it a presence, a meaning, a symbol, a soul. I utilize icons in my work as a way of connecting with this fundamental truth. A tire, a skull or a bomb are recognizable images and part of our universal knowledge, just as much as a sacred image, or a image of a dog. What I do is use these icons in a new context, or structure, that places their meaning in jeopardy".
Between 1989 and 1990 he lives in New York where he has his first solo show Rocce. In the nineties he exhibited in numerous group shows in Los Angeles at the Art Gallery of Otis Parsons College of Art and Design, in Paris, in Kiev at the Soros Center for Contemporary Art, Vienna at the Vienna Secession, Frankfurt, in Dublin at the IMMA Irish Museum of Modern Art, Geneva, Taiwan, Liege as well as in Bologna, Rome, Milan, Prato, Naples, Spoleto, Venice.
In 1999 the participation in the XIII Quadriennale Palazzo delle Esposizioni Roma.
In the next years his work is featured in numerous solo exhibitions. In 2000 in Rome at the Galleria Stefania Miscetti and in Bangkok Center for Academic Resources, Chulalongkorn University. In 2001 in Paris at the Galerie Cent8 and in Siena at the Palazzo delle Papesse Centro Arte Contemporanea. In Milan in the Galleria Christian Stein in 2002, 2005 and 2010.
In 2002 the publisher Charta devotes to the artist a monograph with essays by Andrea Camilleri, Mario Codognato, Doris von Draten, Chrissie Iles and Valerio Magrelli. In 2004 the solo project Welcome to Oz at the Center for Contemporary Art PS1, New York curated by Alanna Heiss and the show A Couple of Things I Have to Tell You in the Sean Kelly Gallery, New York.
In 2006 the solo project Rubber Car in the MART – Museo d'Arte contemporanea di Trento e Rovereto and the participation in The Peace Tower Project in the Whitney Biennial at the Whitney Museum of American Art. In 2007 the solo show Nothing from Nothing curated by Danilo Eccher at the MACRO – Museo d'Arte Contemporanea Roma, for the show a catalog is published by Electa with text by Danilo Eccher, Alanna Heiss, Klaus Biesenbach, Chrissie Iles.
In 2008 Canevari participates at the 52nd Biennale Internazionale di Venezia curated by Robert Storr with the video Bouncing Skull which will become in 2008 part of the MoMA permanent collection in New York. Other solo exhibitions in 2008: Decalogo at the Calcografia Nazionale, Instituto per la Grafica Roma, MoMA New York Raw-War curated by Klaus Biesenbach. In 2010 the solo show Nobody Knows curated by Germano Celant at the Centro per l'Arte Contemporanea Luigi Pecci, Prato, in occasion of the show Electa published a comprehensive monograph curated by Germano Celant.
Also in 2010 the show Odi et Amo at the GNAM – Galleria Nazionale d'Arte Moderna Rome. In 2011 the solo show Decalogo at The Drawing Center, New York. Paolo Canevari works are part of private and public collections including: Centro per l'arte Contemporanea Luigi Pecci, Prato, MoMA Museum of Modern Art, New York. Foundation Louis Vuitton pour la Creation, Paris. Cisneros Fontanals Art Foundation, Miami. Macro Museo d'Arte Contemporanea Roma. MART Museo d'Arte Contempornea di Trento e Rovereto. Johannesburg Art Gallery, Johannesburg. Istituto Nazionale per la Grafica Calcografia Nazionale, Roma. GNAM Galleria Nazonale d'Arte Moderna, Roma. Perna Foundation, Capri.
For further information visit PAOLO CANEVARI's website.