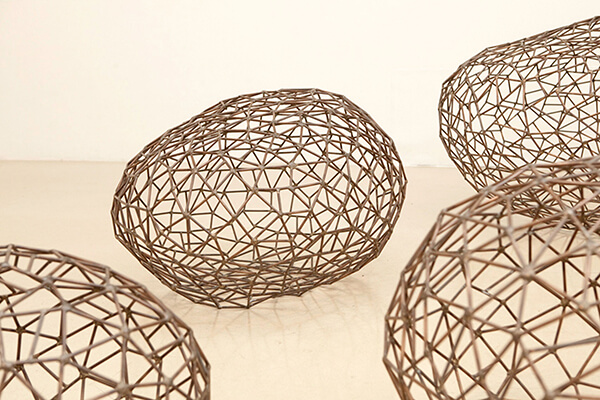 biography.
GIORGIO VIGNA was born in Verona in 1955 and artistically formed among his hometown, Venice, Rome and Milan.
He is an artist who, at the boundary between reality and imagination, creating natural forms capable of manifesting primary and primordial aspects. Adventures of earth and water, fire and wind where combines natural and artificial, poor and precious. Vigna moves on the border between the real and the imaginary, between what is and what appears.
His works, from sculptures to jewelry, the works on paper or the site specific installations, reflect the breadth and depth of his constant research. Using various materials such as glass, metals and paper, treated always new and surprising mode. Vigna explores and seeks them to reveal hidden possibilities.The forms are the primary expression of the elements he works with. Strong and natural, universal and timeless, full of symbolic meanings.
In 2013 the Museum of Castelvecchio in Verona hosted the exhibition Stati Naturali, for which Giorgio Vigna has created for the fountain of Carlo Scarpa the permanent installation in glass Acquaria. In 2017 he has created for the Galleria dell'Accademia in Venice the work Fuochi di Rugiada, placed in the hall as a sign of welcome to visitors, made by Vetreria VENINI.
His work has been exhibited in galleries and museums in Argentina, Austria, China, Korea, Finland, France, Germany, Great Britain, Greece, Hong Kong, Italy, Netherlands, the Principality of Monaco, Russia, the US, Switzerland.
His works are in public and private collection such as:
MAD, Museum of Arts & Design, New York, USA.
The State Hermitage Museum, St. Petersbourg, Russia.
Honolulu Museum Of Art, Honolulu, Hawaii.
Gallerie dell'Accademia, Venice, Italy.
Museo di Castelvecchio, Verona, Italy.
Museo del Vetro, Murano, Venice, Italy.
Cooper Hewitt, Smithsonian Design Museum, New York, USA.
IMA, Indianapolis Museum of Art, Indianapolis, Indiana, USA.
Ilias Lalaounis Jewelry Museum, Athens, Greece.
Museo degli Argenti, Palazzo Pitti, Florence, Italy.
Miaao, Museo Internazionale delle Arti Applicate Oggi, Turin, Italy.
Olnick Spanu Art Program, Garrison, New York, USA.
Olnick Spanu Collection, New York, USA.
Diane Venet Collection, Parigi, France.
Designmuseo, Helsinki, Finland.
Civica Raccolta delle Stampe Achille Bertarelli, Castello Sforzesco, Milan, Italy.
Musée Barbier-Mueller, Geneve, Switzerland.
Collezione Permanente Fondazione Raffaele Cominelli, San Felice del Benaco BS, Italy.
Collezione Bellini Pezzoli, Castello Sforzesco, Milan, Italy.
For further information visit GIORGIO VIGNA's website.
exhibitions.
all exhibitions by GIORGIO VIGNA with STUDIO STEFANIA MISCETTI.
catalogues.
all catalogues by GIORGIO VIGNA with STUDIO STEFANIA MISCETTI.