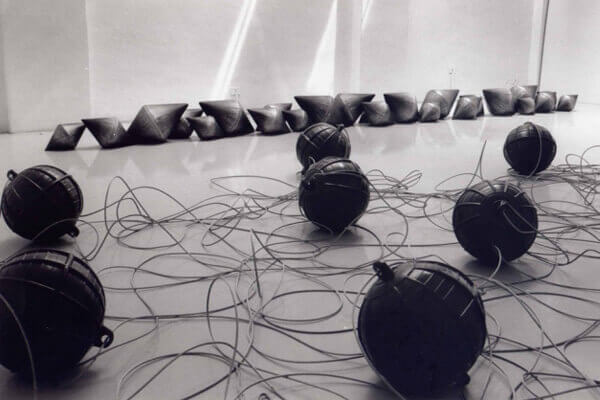 biography.
FIORELLA RIZZO graduated at the Academy of Fine Arts in Lecce, where she was born. She moved to Rome in 1974.
Among her first solo exhibitions, we would like to remember: Centro Culturale per l'Informazione visiva, Rome, 1975; Centrosei, Bari, 1977; Galleria Taide, Salerno, 1978; Galleria Lastaria, Rome, 1979.
She exhibited in several national and international shows, such as: Arte e Critica, Galleria Nazionale d'Arte Moderna, Rome 1981 and Art and Critics, Marshall Field's, Chicago, 1982; Terra d'Italia, Galleria d'Arte Moderna, Ancona, 1983; Tridimensionale, Galleria d'Arte Moderna, Termoli, 1984; Le sorgenti dell'Arte, Castello Veneziano, Iraklion (Crete) 1985; Le rane di Galvani, Studio E, Rome, 1985; L'immagine e la cosa, Museo Civico, Caltagirone (Catania), 1986; Villa Massimo Arte, German Academy, Rome, 1987; Il Colore dei Miracoli, Castello di Volpaia, (Siena) 1987; solo exhibition at Galleria Cinquetti, Verona, 1988; Artae, Ravenna, Rome, Milan, 1991-92.
Between 1989 and 1992 her works were shown in various museums in the United States. Among them, The Phillips Collection in Washington, during the exhibition Eternal Methaphors: New Art from Italy.
In 1991 and 1993 she had two solo exhibitions, Cripta and Naulo, at STUDIO STEFANIA MISCETTI in Rome. In 1993 she also presented Le onde, at Sala San Leonardo, in Venice.
From 1994 to 2003 she lived in London, but still taking part in exhibitions in Italy: Ipotesi sulla Scultura, Sala Chierici, L'Aquila, 1994; Isole del disordine, S. Agostino, Cortona, 1994; Rilief minimaux, Art & Jeans, matière, mémorie, idée, Passage de Retz, Paris, 1994;  Opere a Segno, Palazzo Farnese, Ortona (Chieti), 1994; Lo spazio della Scultura, Cinecittà 2, Rome, 1994; La Sonnambula, Temple Gallery, Rome, 1994; Il Paese delle Meraviglie e Le Tavole della Legge, Castello di Volpaia (Siena), 1994; Nutrimenti dell'Arte, La Salerniana, Erice (Trapani), 1995; Mercato Saraceno, Mercato Saraceno (Forlì) 1995; Croceviadue, Palazzo Judicibus, Casarano (Lecce) 1995; I sentieri del fuoco, Castaldelci, (Pesaro), 1996; Dadaismo e Dadaismi, Palazzo Forti, Verona, 1997; Eteronymous, Complesso monumentale del San Michele, Rome, 1997; Lavori in corso, MACRO, Rome, 1997, 1 Biennale dei Parchi, Natura e Ambiente, French Embassy, Palazzo Farnese, Rome, 1998; Scatola nera, solo show, Galleria Martano, Turin 1998; Imagines de culto, arte para el siglo XXI, La collezione di Carlo Catellani, Sal Parpallo, Valencia, 1998; Liberi Pensatori, Palazzo Rospigliosi, Zagarolo (Rome), 1999; Tutto il potere è da creare, Acquario Romano. Rome, 2001. In 2002 she presented Kaleidescope, photographic work realized in London Underground. First shown at Essor Gallery in London, it was also included in Fiorella Rizzo's solo show at Berlin Cultural Institute (2002) and in FotoGrafia Festival Internazionale di Roma, Rome (2006).
Among her exhibitions: Topilo Utopia, Association Artists in the Nature, Topilo (Poland) 2002; Decima Biennale d'Arte Sacra, Museo Stauròs, Isola del Gran Sasso (Teramo), 2002; Elsewhere, Wbd, Berlin, Essor gallery, London, 2002; L'Arte dei ciliegi – Omaggio a Anton Cechov, Casa delle Culture, Cosenza, 2004; Il Museo del Mare e dei Miti, Crotone, 2005; Dissertare/Disertare, Palazzo Colonna, Genazzano (Rome), 2006; Dodicesima Biennale d'Arte Sacra, Museo Stauròs, Isola del Gran Sasso (Teramo), 2006; L'Arte e Dio. La scommessa di Carlo Cattelani, Palazzo Forti, Verona, 2006; Frail, hinnact studio, Rome, 2007; "Invita", Casa di Giovanni e Benedetta Bulgari,  Rome, 2007; Dalla luce all'attimo, solo exhibition, Vertigo, Cosenza, 2017; Tornare@Itaca, Arte per la legalità, Museo Civico dei Brettii e degli Enotri, Cosenza, 2009 – Fondazione Mudina, Milan, 2010; InOpera, Sulle orme di P. Matteo Ricci, Palazzo Bonaccorsi, Macerata, 2010; A Better Tomorrow/Buon Domani, STUDIO STEFANIA MISCETTI, Rome; Arte dopo la Fotografia, Galleria Nazionale d'Arte Moderna, Rome, 2011; Livre d'artistes, Gallery Vera Amsellem, Paris, 2012.
In 2013-14 InOltre, anthological exhibition, Museo Carlo Bilotti – Aranciera di Villa Borghese; Art is real, una collezione impermanente, Palazzo Pasquino, Rome, 2014; Irradiazioni, Mostra personale, BeAArte, Rome, 2015; Biennale d'Arte Sacra delle Religioni dell'Umanità, Palazzo Donà delle Rose, Venice – Palazzo Belmonte Riso, Palermo 2016; Fragili Eroi, La Collezione di Roberto Gramiccia, Museo Carlo Bilotti – Aranciera di villa Borghese, 2016; Frammentazione, Villa Blanc, Rome, 2017; Mostra Colletiva di Artisti contemporanei, Spazio Cerere, Rome, 2019; Ponte di conversazione con Paolo Aita, Museo Carlo Bilotti – Aranciera di Villa Borghese, Rome, 2019; Sketch. Segni contemporanei, La Nuova Pesa, Rome, 2020.
Her works are included in public and private collections. 
exhibitions.
all exhibitions by FIORELLA RIZZO with STUDIO STEFANIA MISCETTI.
catalogues.
all catalogues by FIORELLA RIZZO with STUDIO STEFANIA MISCETTI.