ANNA-SOFIA SYSSER | tropical dreams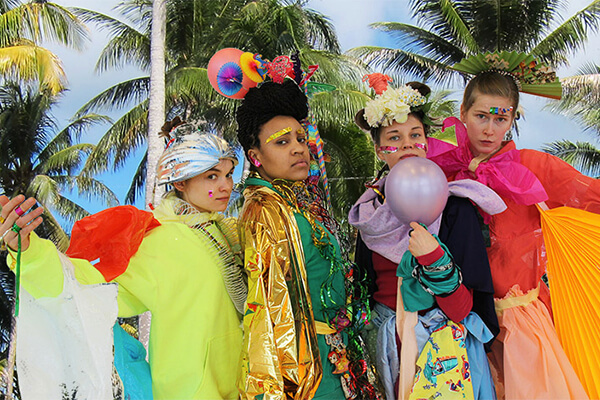 talk
ANNA-SOFIA SYSSER in conversation with Manuela Pacella and Dobrila Denegri
date and hours: 
wednesday, april 17th, 2019 – 6pm
STUDIO STEFANIA MISCETTI is proud to present Tropical Dreams, a focus on the practice of Anna-Sofia Sysser.
The artist's 2015 piece Birds of Paradise has been selected for the eleventh edition of SHE DEVIL.
In conversation with Manuela Pacella and Dobrila Denegri, the Finnish artist will present her research on "Finnish tropical" – that is, the way in which the tropical theme is conceived in Finland – to a Roman audience.
Her interest came from observations of the Finnish Tropical in 2015, and grew during her travels to the tropics. This critical investigation has led to Tropical Dreams: Representations of the Tropical in Finland, her thesis at Aalto University in 2018.
In her talk, she will reflect on her most important exhibitions: namely, her solo show at Oksasenkatu 11 gallery in Helsinki, Surprise Paradise (2015). which included the video works Flowers of Cuba and Birds of Paradise, which were both shown in two highly immersive enviroments, alongside installations and performative works like Tropical Rooms (2016). During the presentation, a selection of her videos will be shown and themes, like play, environmental sustainability and the tropical, will be discussed. In this edition of SHE DEVIL, We Will Survive, Anna-Sofia Sysser succeeds in adding an essential touch of irony and "care" to the theme proposed: the urgent issue of climate change.
​Read and download the exhibition's press release.
ANNA-SOFIA SYSSER: born in Helsinki in 1986 where she lives and works. She works with video, performance, writing and installation. Sysser has graduated from Aalto University's Visual Culture and Contemporary Art MA program in 2018 and from Turku Arts Academy as a drama instructor in 2012.
Selected Exhibitions – Solo shows: 2018 – Trooppisia unelmia, Ponnahus Gallery, Kajaani (FI); 2017 – Touching palm trees, artificial waves,'tropical' dreams, Asematila, Helsinki; Yllätysparatiisi/Surprise Paradise, Oksasenkatu 11 Gallery, Helsinki; 2014 – Between the Ceiling And the Floor with the architect Helmi Kajaste, Sorbus Gallery, Helsinki; 2013 – Collecting – Recollecting, Deck Drei, Berlin.
Group shows: 2017 – RytmiTaju 2017, Hyvinkään taidemuseo ja taiteilijaseura, Hyvinkää (FI); Space Invaders V – Tolerance, Lielahti mansion, Tampere (FI); 2016 – Pori Biennaali 2016 – Saatanan kesänäyttely, Generaattorigalleria, Pori (FI); Salon de Porveaux, Porvoon Taidehalli, Porvoo (FI); 2012 – Phase, XL Art Space, Helsinki; B + Titanik, Titanik Gallery, Turku (FI).
For a more complete artist profile, see the ANNA-SOFIA SYSSER's website.
more she devil catalogues.
All SHE DEVIL exhibitions and events.