SHE DEVIL | catalogue of the project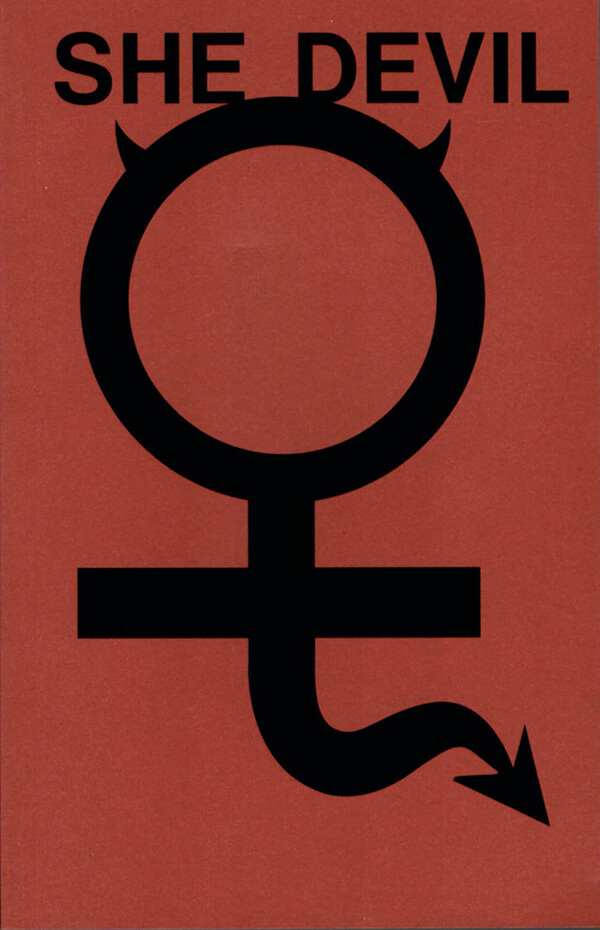 SHE DEVIL (I-XI)
curated by: STUDIO STEFANIA MISCETTI
published by: CURA.
city of publication: Rome
year: 2019
introduction by: Stefania Miscetti
texts by: Antonia Alampi, Susanna Bianchini, Benedetta Carpi De Resmini, Daniela Cascella, Dobrila Denegri, Giulia Di Costanzo, Eleonora Farina, Veronica He, Pia Lauro, Alessandra Mammì, Manuela Pacella, Cristiana Perrella, Elena Giulia Rossi, Alessandra Troncone, Paola Ugolini, Chiara Vigliotti.
translated by: Edward Fortes (SHE DEVIL VI-XI)
logo by: Gianmaria Mazzeo
ARTISTS
LIDA ABDUL, ELIA ALBA, MONIRA AL QADIRI, BASMA ALSHARIF, GRIMANESA AMORÓS, ALICE ANDERSON, BERTILLE BAK, PERRY BARD, JURGA BARILAITĖ, BAHAR BEHBAHANI, JANET BIGGS, ILARIA BIOTTI, ZOULIKHA BOUABDELLAH, SIGNE CHIPER-LILLEMARK, KATHRYN CORNELIUS, LILIBETH CUENCA, MARTA DELL'ANGELO, MONICA DE MIRANDA, JEN DENIKE, MARIA DI STEFANO, KELLY DOBSON, DRIFTERS, CRISTINA ELIAS WITH, SERGIO NESTERIUK, NOOSHIN FARHID, EDY FERGUSON, ORIANA FOX, ANNA FRANCESCHINI, LAURA FRATANGELO, ELLIE GA, REGINA JOSÉ GALINDO, ROBERTA GARBAGNATI, SILVIA GIAMBRONE, KATE GILMORE MAGDALENA GOLBA, LAURA GRISI, ANETA GRZESZYKOWSKA, ÁSDÍS SIF GUNNARSDÓTTIR, NILBAR GÜREŞ, SHADI HAROUNI, ISABELLE HAYEUR, MALAK HELMY, NICK HOOKER, KRISTINA INČIŪRAITĖ, PAYAL KAPADIA, JACKIE KARUTI, FLO KASEARU, JULIA KLÄRING, KAREN KRAMER, DILARA KOZ, KATARZYNA KOZYRA, RIIKKA KUOPPALA, LUCIA LAMBERTI, NINA LASSILA, VALERIE LEBLANC, KLARA LIDÉN, LOREDANA LONGO, MAHA MAAMOUN, ANNALISA MACAGNINO, RACHEL MACLEAN, JUMANA MANNA – SILLE STORIHLE, SARAH MAPLE, JENNY MARKETOU, KATHARINA D. MARTIN, ANGELA MARZULLO, SABA MASOUMIAN, TARA MATEIK, ELENA MAZZI, ALMAGUL MENLIBAYEVA, LORNA MILLS, NANDIPHA MNTAMBO, ANETTA MONA CHISA, SHANA MOULTON, TAMARA MOYZES, SABRINA MUZI, LAUREL NAKADATE, GRACE NDIRITU, TRINE LISE NEDREAAS, ORLAN, LINA PALLOTTA, LUANA PERILLI, MARIUCCIA PISANI, AGNIESZKA POLSKA, ANA PRVACKI, MA QIUSHA, ANNA RAIMONDO, MOIRA RICCI, MARTHA ROSLER, JULIKA RUDELIUS, NORDINE SAJOT, MANA SALEHI, LARISSA SANSOUR, ALICE SCHIVARDI, ERICA SCOURTI, BERNI SEARLE, MARINELLA SENATORE, EVA SEPPING, LERATO SHADI, ELAINE SHEMILT, EMILIJA ŠKARNULYTĖ, TRACEY SNELLING, IRENE SOSA, GIAN DOMENICO SOZZI, KATE STREET, ASLI SUNGU, JEANNE SUSPLUGAS, ANNA-SOFIA SYSSER, PILVI TAKALA, FEDERICA TAVIAN FERRIGHI, MATHILDE TER HEIJNE, LARA TORRES, JANAINA TSCHÄPE, VALIE EXPORT, EULALIA VALLDOSERA, ALIKI VAN DER KRUIJS & VIKTORIA SHYDLOUSKAYA, MADDALENA VANTAGGI, AMAIA VICENTE GARCÍA, BARBARA VISSER, SAOIRSE WALL, JULIA WEIDNER, MARISA WILLIAMSON, RONA YEFMAN, SINAE YOO, MARY ZYGOURI, JOANNA ZYLINSKA.
CATALOGUE COLOPHON
© all the authors for the texts
© artists, galleries, institutions for the images
© EULALIA VALLDOSSERA, SIAE 2019
editorial coordination: Costanza Paissan
design: Walter Santomauro
printed by: Standartu Spaustuve, Vilnius
more she devil catalogues.
All SHE DEVIL exhibitions and events.