ADRIAN TRANQUILLI | believe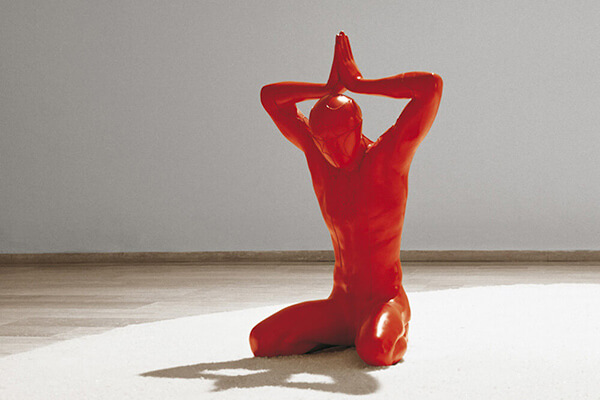 solo exhibition
exhibition opening:
wednesday october 10th, 2001
exhibition closing:
november 20th, 2001
opening hours:
tuesday to saturday, 4–8pm
Spazio S8zero continues its exploration of the different languages of contemporary art, turning its attention to the area of artistic production that returns to traditional iconography and marries it with the new culture of mass media. Adrian Tranquilli belongs to this area, insofar as he creates, through the reworking of images originating from the most diverse of contexts, an original and poetic universe of signs that emphasises the crisis which today's culture and societal models are currently going through.
BELIEVE marks a natural progression and development in Tranquilli's practice, which is made evident by solo exhibitions such as Sei Senza nome ("You have no name"; 1995, Rome, Oratorio dei Filippini and Studio Stefania Miscetti), Futuro Imperfetto ("Future Imperfect") and Evidence (1998 and 2001, Roma, STUDIO STEFANIA MISCETTI), in addition to The Golden Dream, created with Zerynthia, a contemporary art organisation in Colleferro.
His work has also featured in numerous galleries, museums and public spaces, both in Italy and abroad, such as the National Gallery of Modern Art and the National Institute of Graphic Design in Rome, the Castelnuovo Museum in Naples, the PAC in Milan, the MAK in Vienna, the Italian Cultural Institute in Berlin and the Dalì Museum in St Petersburg, Florida.
The S8zero gallery space has also become an integral part of the project. The artist has created a kind of obligatory itinerary whereby, in a series of spaces varying from the cramped to the extensive, successive multimedia installations invite us into his imagination, one peopled by apparitions, presences and characters from the world of (superhero) comics, cinema, history of art and religion.
Tranquilli's work is born of an analytical approach to the global cultural model and its symbolic representations, as well as a reflection on technological development and the ever more evident fusion and intersection of different languages and models. His oeuvre is technically diverse, ranging from sculpture to installation, from photographic work to the digital processing of images, to video and interactive projects.
BELIEVE features new sculptural-installation pieces such as Hulk-The Incredible (polyurethane, plaster and resin) and Believe (plaster cast resin, powdered granite), the installation Extasy -The Golden Dream (resin sculpture and soundscape), the three-part video Imperfect Future, the photography piece This Final Cut, Evidence and the new interactive project The Other One.
Read and download the exhibition's press release.
ADRIAN TRANQUILLI was born in Melbourne in 1966. He lives and works in Rome. His major solo exhibitions include:
Days of a Future Past, MANN – Museo Archeologico Nazionale di Napoli, Naples 2016; Welcome to the Fall, MART – Museo d'Arte Moderna e Contemporanea di Trento e Rovereto, Rovereto 2014; All is violent, all is bright, MACRO – Museo d'Arte Contemporanea Roma, Rome 2011; Don't Forget the Joker, Palazzo Reale, Milan 2010; These Imaginary Boys, Parkhouse, Düsseldorf 2004; Know Yourself, MACRO – Museo d'Arte Contemporanea Roma, Rome 2003; Believe, Palazzo delle Esposizioni, Rome 2001.
Adrian Tranquilli's work has been shown as part of major group exhibitions at numerous public and private institutions, including: SPSI – Shanghai Oil Painting & Sculpture Institut Art Museum, Shanghai 2015; LAUBA, Zagreb 2015; CoCA – Center of Contemporary Art, Torun 2014; La Maison d'Ailleurs, Yverdon-les-Bains 2014; La Maison Rouge, Fondation Antoine de Galbert, Paris 2009; Sala de Exposiciones Alcalá 31, Madrid 2008; Botkyrka Konsthall, Stockholm 2007; KUNSTHALLE, Wien 2006; GNAM – Galleria Nazionale d'Arte Moderna, Rome 2005; Palazzo delle Papesse – Centro Arte Contemporanea, Siena 2003; IASPIS, Stockholm 2002; Dalì Museum, St. Petersburg (Florida, USA) 2001; PAC – Padiglione d' Arte Contemporanea, Milan 2000; Bienal de La Habana, La Habana 2000; MAK, Österreichisches Museum für angewandte Kunst / Gegenwartskunst, Wien 1999.
For a more complete artist profile, see the artist page.