ADRIAN TRANQUILLI | evidence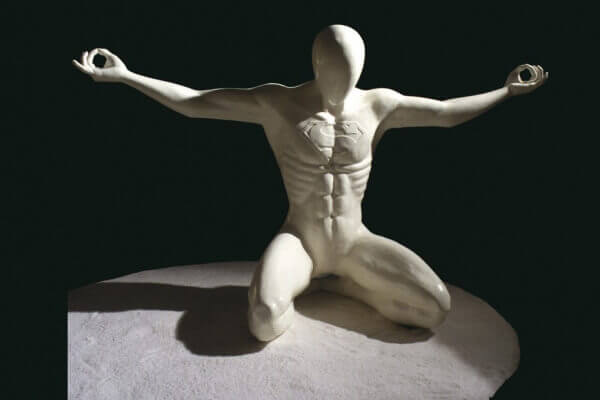 solo exhibition
exhibition opening:
thursday march 22nd, 2001
exhibition closing:
may 12th, 2001
opening hours:
tuesday to saturday, 4–8pm
ADRIAN TRANQUILLI's career reveals a technically diverse output ranging from sculpture to installation, photographic work to the digital processing of images and video.
Starting from an examination of different symbolic representations and an analysis of global culture, his work tackles the effects of technological development and the blending of representational languages, as well as the iconographic models of religion, culture and mass media.
Evidence is the title of his latest installation piece, specifically created with the Studio Stefania Miscetti in mind, and following the solo exhibition Futuro Imperfetto ("Future Imperfect") – presented in the same space in 1999 – and the installation The Golden Dream, produced with the contemporary art organisation Zerynthia, based in Colleferro. His work has also featured in numerous galleries, museums and public spaces, both in Italy and abroad, including the National Modern Art Gallery and the National Institute of Graphic Design in Rome, the Castelnuovo Museum in Naples, the PAC in Milan, the MAK in Vienna, the Italian Cultural Institute in Berlin and the Dalì Museum in Florida.
"This installation is the natural consequence of a period of research that began in 1995, and which runs from the Sei Senza nome cycle to that of Futuro Imperfetto. In the latter I tried to highlight the sense of relativity – and thus weakness – that is implicit in today's cultural models. Tranquilli notes: with Evidence I want to stress the need for a greater collective awareness of the structures this has generated; in spite of everything these have become gradually more evident, and fraught with their own inevitable crisis."
The Evidence installation is made up of sculptures, digitally processed images and charcoal drawings, as well as a video piece made in collaboration with Giancarlo Soldi. The whole is accompanied by a soundtrack created in collaboration with Oscar Greco.
Read and download the exhibition's press release.
ADRIAN TRANQUILLI was born in Melbourne in 1966. He lives and works in Rome. His major solo exhibitions include:
Days of a Future Past, MANN – Museo Archeologico Nazionale di Napoli, Naples 2016; Welcome to the Fall, MART – Museo d'Arte Moderna e Contemporanea di Trento e Rovereto, Rovereto 2014; All is violent, all is bright, MACRO – Museo d'Arte Contemporanea Roma, Rome 2011; Don't Forget the Joker, Palazzo Reale, Milan 2010; These Imaginary Boys, Parkhouse, Düsseldorf 2004; Know Yourself, MACRO – Museo d'Arte Contemporanea Roma, Rome 2003; Believe, Palazzo delle Esposizioni, Rome 2001.
Adrian Tranquilli's work has been shown as part of major group exhibitions at numerous public and private institutions, including: SPSI – Shanghai Oil Painting & Sculpture Institut Art Museum, Shanghai 2015; LAUBA, Zagreb 2015; CoCA – Center of Contemporary Art, Torun 2014; La Maison d'Ailleurs, Yverdon-les-Bains 2014; La Maison Rouge, Fondation Antoine de Galbert, Paris 2009; Sala de Exposiciones Alcalá 31, Madrid 2008; Botkyrka Konsthall, Stockholm 2007; KUNSTHALLE, Wien 2006; GNAM – Galleria Nazionale d'Arte Moderna, Rome 2005; Palazzo delle Papesse – Centro Arte Contemporanea, Siena 2003; IASPIS, Stockholm 2002; Dalì Museum, St. Petersburg (Florida, USA) 2001; PAC – Padiglione d' Arte Contemporanea, Milan 2000; Bienal de La Habana, La Habana 2000; MAK, Österreichisches Museum für angewandte Kunst / Gegenwartskunst, Wien 1999.
For a more complete artist profile, see the artist page.