ADRIAN TRANQUILLI | futuro imperfetto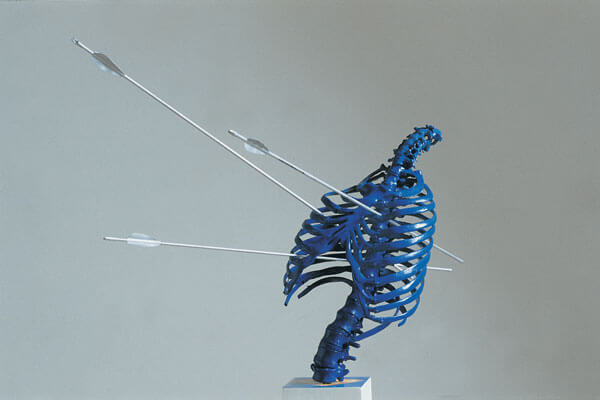 solo exhibition
exhibition opening:
thursday november 19th, 1998 – 6pm
exhibition closing:
january 30th, 1999
opening hours:
tuesday to saturday, 4-8pm
For his fourth solo exhibition in Rome, entitled Futuro Imperfetto (Future Imperfect), Adrian Tranquilli presents a new sequence of work borne out of a reading of contemporary reality based on the notion of an ever more pervasive cultural and social homogeneity in every sphere. Spiritual, religious and cultural concepts – and their symbolic representations – overlap and intertwine, appearing to be drained of their original meaning.
The artist places his characters – drawn from history, Christian, Buddhist and ancient mythology, as well as comic books and cinema – in an imaginary space, or rather a non-space, making it impossible to determine their true identity. With this, he rewrites the stories and fortunes of superheroes and objects of worship, turning them into the exhibits of a future museum of anthropological archaeology.
This vision of reality's paradigms is at once eclectic and ironic: from the "reality" of the cultural model, to the imaginary and "alternative" examples pertaining to the parallel worlds of cinema, art and comics.
The idea of working across different forms and merging a variety of technical and formal solutions (the use of computer-generated images, wax and resin sculptures) were already features of his previous solo exhibition (Transider, De Crescenzo & Viesti Gallery), in which Tranquilli explored the modes of representation and bodily manipulation in the world of fashion, art and comics.
This exhibition presents ten sculptures made with the most diverse materials (from cement to fiberglass, wood and plastic) and some wall pieces created using the 'plotter-painting' technique.
Read and download the exhibition's press release [ITA].
ADRIAN TRANQUILLI was born in Melbourne in 1966. He lives and works in Rome. His major solo exhibitions include:
Days of a Future Past, MANN – Museo Archeologico Nazionale di Napoli, Naples 2016; Welcome to the Fall, MART – Museo d'Arte Moderna e Contemporanea di Trento e Rovereto, Rovereto 2014; All is violent, all is bright, MACRO – Museo d'Arte Contemporanea Roma, Rome 2011; Don't Forget the Joker, Palazzo Reale, Milan 2010; These Imaginary Boys, Parkhouse, Düsseldorf 2004; Know Yourself, MACRO – Museo d'Arte Contemporanea Roma, Rome 2003; Believe, Palazzo delle Esposizioni, Rome 2001.
Adrian Tranquilli's work has been shown as part of major group exhibitions at numerous public and private institutions, including: SPSI – Shanghai Oil Painting & Sculpture Institut Art Museum, Shanghai 2015; LAUBA, Zagreb 2015; CoCA – Center of Contemporary Art, Torun 2014; La Maison d'Ailleurs, Yverdon-les-Bains 2014; La Maison Rouge, Fondation Antoine de Galbert, Paris 2009; Sala de Exposiciones Alcalá 31, Madrid 2008; Botkyrka Konsthall, Stockholm 2007; KUNSTHALLE, Wien 2006; GNAM – Galleria Nazionale d'Arte Moderna, Rome 2005; Palazzo delle Papesse – Centro Arte Contemporanea, Siena 2003; IASPIS, Stockholm 2002; Dalì Museum, St. Petersburg (Florida, USA) 2001; PAC – Padiglione d' Arte Contemporanea, Milan 2000; Bienal de La Habana, La Habana 2000; MAK, Österreichisches Museum für angewandte Kunst / Gegenwartskunst, Wien 1999.
For a more complete artist profile, see the artist page.