ADRIAN TRANQUILLI | sei senza nome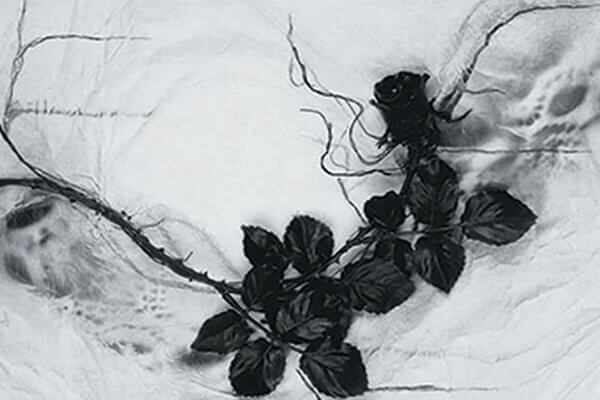 solo exhibition
exhibition opening:
september 20th, 1995 – 7pm
exhibition closing:
october 28th, 1995
opening hours:
wednesday to saturday, 4-8pm
The ADRIAN TRANQUILLI exhibition takes place simultaneously in two locations: in a gallery, the space designated for, and open to, the presentation of contemporary art; and at the Oratorio dei Filippini, a space designed by Borromini, rich in history and meaning, and chosen specifically to encourage reflection on the idea of the sacred, somewhere between the traditional and the contemporary.
Adrian Tranquilli's practice aims to identify a language that takes as its point of departure a series of objects often associated, in our culture, with the "female" world. Charged with symbolic value, these objects (roses, fans, lace and fringes) are removed from their context and manipulated in such a way as to make their use and abuse by different forms of power painfully clear – most notably in the case of religion.
Freed from the meanings that have accumulated over time, Tranquilli raises these objects to a new level of awareness, which is only the beginning of an as yet unknown journey. Therein why all the pieces are given the same title by the artist: "untitled". The common denominator behind this recent work is the use of a variety of containers which undergo an internal transformation, and are thus driven by the very objects they contain to embrace and appropriate the space outside of them.
The sculpture presented at the Oratorio is a cylindrical structure of 6 m. high and 4 m. in diameter, split into seven sections, each of which includes a metal artwork on paper decorated with mixed media. Display cabinets of varying dimensions are exhibited at the STUDIO STEFANIA MISCETTI.
An exhibition catalogue will be published featuring a critical essay by Ida Magli and an interview with the artist by Ludovico Pratesi.
Press office: Antonio Arevalo
ADRIAN TRANQUILLI was born in Melbourne in 1966. He lives and works in Rome. His major solo exhibitions include:
Days of a Future Past, MANN – Museo Archeologico Nazionale di Napoli, Naples 2016; Welcome to the Fall, MART – Museo d'Arte Moderna e Contemporanea di Trento e Rovereto, Rovereto 2014; All is violent, all is bright, MACRO – Museo d'Arte Contemporanea Roma, Rome 2011; Don't Forget the Joker, Palazzo Reale, Milan 2010; These Imaginary Boys, Parkhouse, Düsseldorf 2004; Know Yourself, MACRO – Museo d'Arte Contemporanea Roma, Rome 2003; Believe, Palazzo delle Esposizioni, Rome 2001.
Adrian Tranquilli's work has been shown as part of major group exhibitions at numerous public and private institutions, including: SPSI – Shanghai Oil Painting & Sculpture Institut Art Museum, Shanghai 2015; LAUBA, Zagreb 2015; CoCA – Center of Contemporary Art, Torun 2014; La Maison d'Ailleurs, Yverdon-les-Bains 2014; La Maison Rouge, Fondation Antoine de Galbert, Paris 2009; Sala de Exposiciones Alcalá 31, Madrid 2008; Botkyrka Konsthall, Stockholm 2007; KUNSTHALLE, Wien 2006; GNAM – Galleria Nazionale d'Arte Moderna, Rome 2005; Palazzo delle Papesse – Centro Arte Contemporanea, Siena 2003; IASPIS, Stockholm 2002; Dalì Museum, St. Petersburg (Florida, USA) 2001; PAC – Padiglione d' Arte Contemporanea, Milan 2000; Bienal de La Habana, La Habana 2000; MAK, Österreichisches Museum für angewandte Kunst / Gegenwartskunst, Wien 1999.
For a more complete artist profile, see the artist page.