ADRIAN TRANQUILLI | the unguarded moment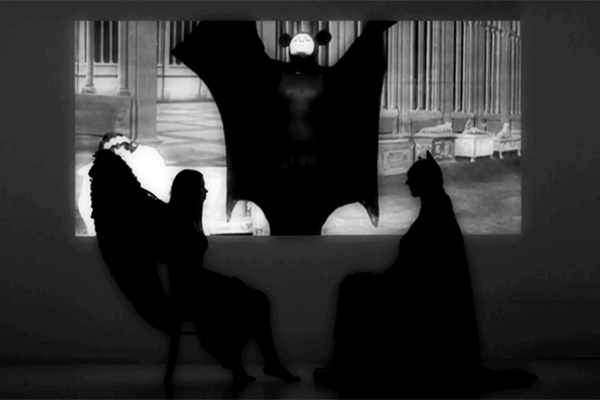 solo exhibition
exhibition opening:
wednesday november 20th, 2019
exhibition closing:
november 30th, 2019
opening hours:
tuesday to saturday, 4–8pm
On the occasion of Videocittà's 2019 VideoArt Week, STUDIO STEFANIA MISCETTI is proud to present The Unguarded Moment, a new video specifically realized by Adrian Tranquilli directed by Giorgio Guido.
During the last twenty years, Adrian Tranquilli's artistic work, expressed through different media, ranging from installation to sculpture, from drawing to video, has investigated the figure of the hero from anthropological point of view. In his work these 'saviours' are often represented in an unheroic and humble way, in order to trigger reflections about the relationship between the individual and those power structures of a religious, ideological, political or economic nature, that condition and oppress him.
The Unguarded Moment stages the theme of dialogue in all its forms, based not necessarily on words but on looks, gestures, poses and phrases with a fleeting and evocative sense.
Starting from an unlikely conversation between Batman and an angel, both figures invested with the power to save and protect, Tranquilli triggers dialogues – that are often silent – between pairs of opposites immersed in another dreamlike and magical dimension, full of metaphorical allusions.
The central theme, namely the connection between the masculine principle and the feminine one, as well as that between good and evil, the conscious and the unconscious, are here evoked through some topical scenes of classical cinema, which cite Paul Leni and his The Man Who Laughs of 1928 based on the novel of the same title by Victor Hugo; Federico Fellini and his Lo Sceicco Bianco (The White Sheik) of 1952; and one of the first episodic films, the cine-novel Les Vampires of 1915, directed by Louis Feuillade.
Tranquilli brings this layering of 'dialogues' to the extreme, shifting the focus from the screen to the viewer, and engaging the audience in the final scene of his video.
Created by Francesco Rutelli, President of ANICA (Associazione Nazionale Industrie Cinematografiche Audiovisive Multimediali) and directed by Francesco Dobrovich, Videocittà is created with the support of the Regione Lazio and Lazio Creativo, in collaboration with CDP and Roma Capitale Assessorato alla Crescita Culturale.
The main partners of Videocittà are Eni, Intesa Sanpaolo and TIM.
Main Media and Content Partner of Videocittà is the Rai that participates in the event with a series of specific projects of RAI STORIA, RAI TECHNE, RAI FICTION, RAI RAGAZZI, RAI CINEMA.
Videocittà is realized in partnership with MAXXI, with the support of ANICA and uses the IGPDecaux media partnership.
Read and download the exhibition's press release.
ADRIAN TRANQUILLI was born in Melbourne in 1966. He lives and works in Rome. His major solo exhibitions include:
Days of a Future Past, MANN – Museo Archeologico Nazionale di Napoli, Naples 2016; Welcome to the Fall, MART – Museo d'Arte Moderna e Contemporanea di Trento e Rovereto, Rovereto 2014; All is violent, all is bright, MACRO – Museo d'Arte Contemporanea Roma, Rome 2011; Don't Forget the Joker, Palazzo Reale, Milan 2010; These Imaginary Boys, Parkhouse, Düsseldorf 2004; Know Yourself, MACRO – Museo d'Arte Contemporanea Roma, Rome 2003; Believe, Palazzo delle Esposizioni, Rome 2001.
Adrian Tranquilli's work has been shown as part of major group exhibitions at numerous public and private institutions, including: SPSI – Shanghai Oil Painting & Sculpture Institut Art Museum, Shanghai 2015; LAUBA, Zagreb 2015; CoCA – Center of Contemporary Art, Torun 2014; La Maison d'Ailleurs, Yverdon-les-Bains 2014; La Maison Rouge, Fondation Antoine de Galbert, Paris 2009; Sala de Exposiciones Alcalá 31, Madrid 2008; Botkyrka Konsthall, Stockholm 2007; KUNSTHALLE, Wien 2006; GNAM – Galleria Nazionale d'Arte Moderna, Rome 2005; Palazzo delle Papesse – Centro Arte Contemporanea, Siena 2003; IASPIS, Stockholm 2002; Dalì Museum, St. Petersburg (Florida, USA) 2001; PAC – Padiglione d' Arte Contemporanea, Milan 2000; Bienal de La Habana, La Habana 2000; MAK, Österreichisches Museum für angewandte Kunst / Gegenwartskunst, Wien 1999.
For a more complete artist profile, see the artist page.