PAOLO CANEVARI | continenti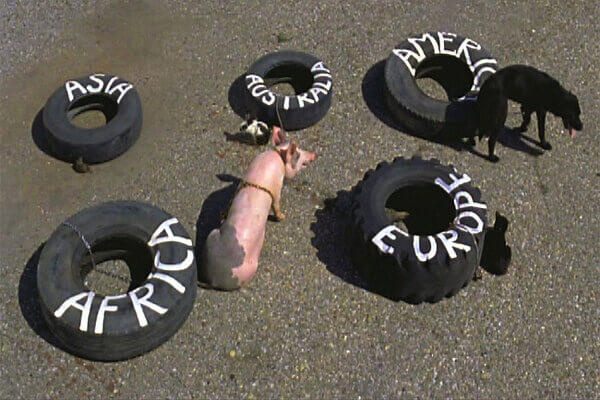 solo exhibition
exhibition opening:
tuesday may 29th, 2007 – 6.30pm
exhibition closing:
october 27th, 2007
opening hours:
monday to friday, 4–8pm
or by appointment
Studio Stefania Miscetti is proud to announce a one-man show by PAOLO CANEVARI (Rome, 1963). The artist lives and works in both New York and Rome and made his debut with his first show in this very gallery. Paolo Canevari presents a series of graphite drawings on large paper sheets specially for the continents exhibition as well as a video from 2005 which is being presented for the first time in Italy. The two works refer to the same subject: five animals, five continents.
Paolo Canevari's comment on continents:
The modern democratic world is divided into five different continents: Australia, America, Africa, Europe and Asia. This "democratic" geographical approach did not take into account profound differences between cultures and ancient natural borders, but instead created an abstract and selfish pattern that we still utilize nowadays not just to describe a geographical contest but also to address or something in a racist or racial way (for example: 'Africans' or 'European'…).
My work describes the five continents as five animals: America/Dog, Australia/Rabbit, Asia/Mouse, Europe/Cat and Africa/Pig, the animals are all of a domestic kind and can be found all over the world. They appear in a tableau each of them leashed to a big tire on which t is written the name of the corresponding continent. The placement of the tires and animals evokes the five Olympic rings (the symbol of the five continents). Each animal has a different symbolism in different part of te world. My work is a reflection on the prejudice that each society adopts towards "Others" and how this underlines its own ignorance and fears.
Read and download the exhibition's press release.
PAOLO CANEVARI (born Rome, 1963) is an Italian contemporary artist. He lives and works in New York and in Rome.
He is one of the Italian internationally recognized artist of his generation, known for using different kind of materials and media like animation, drawing, video, sculpture and installation. Paolo Canevari presents highly recognizable or even commonplace symbols in order to comment on such concept as religion, the urban myths of happiness or the major principles behind creation and destruction.
For a more complete artist profile, see the artist page.