PAOLO CANEVARI | burning mein kampf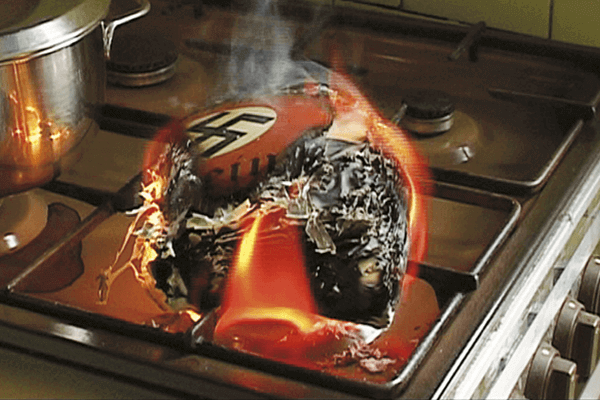 solo exhibition
exhibition opening:
friday october 10th, 2008 – 6.30pm
exhibition closing:
october 18th, 2008
opening hours:
tuesday to Saturday, 4–8pm
STUDIO STEFANIA MISCETTI is proud to announce the show of a new unpublished Paolo Canevari's video work titled Burning Mein Kampf. The work has been produced in 2008 and is a part of the biggest serie of Canevari's "burning" works that he has started in 2004, burning, one after the others, the icons and symbols positives and negatives of our contemporary. From the skull to the Colosseum, from the gun to the tree till the guide book of Adolf Hitler's politic program.
Burning Mein Kampf was shoot in an inside scene with a fixed shot, it shows a figure off putting a copy of the "Nazist bible", the Mein Kampf of Adolf Hitler, on a gas cooker. The book slowly begins to burn so the copy was subjected to the same destiny in which more than million of art works and books, between 1933 and 1944, has been burned by the Nazi dictatorship, because they consider them "degenerates".
Remembering renowned ancestors as Giordano Bruno and Savonarola till Francois Truffaut with his, Fahreinheit 451,in the famous shot of burned books, Canevari says: "the art should lead to thinking, reflecting on some aspects of reality often not perceived in their real nature."
STUDIO STEFANIA MISCETTI attends ROME – ART WEEKEND, 10-12 October 2008
Read and download the exhibition's press release.
PAOLO CANEVARI (born Rome, 1963) is an Italian contemporary artist. He lives and works in New York and in Rome.
He is one of the Italian internationally recognized artist of his generation, known for using different kind of materials and media like animation, drawing, video, sculpture and installation. Paolo Canevari presents highly recognizable or even commonplace symbols in order to comment on such concept as religion, the urban myths of happiness or the major principles behind creation and destruction.
For a more complete artist profile, see the artist page.