GIAN DOMENICO SOZZI | so it goes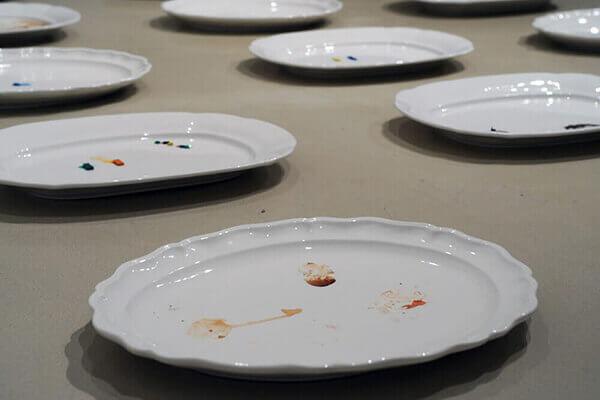 solo exhibition
exhibition opening:
thursday november 27th, 2008 – 6.30pm
exhibition closing:
january 17th, 2009
opening hours:
tuesday to saturday, 4–8pm
or by appointment
STUDIO STEFANIA MISCETTI is pleased to host the fourth solo show of Gian Domenico Sozzi (Cremona, 1960) titled so it goes. The new works presented in the show develop from his previous Lacrimosa, recently shown in Berlin, soon after a series of important one-man-shows at Galleria Civica Montevergini in Siracusa, London, and Milan.
In his latest practice the artist focuses on fragmentary narratives or objects found by chance. Resulting from fortuitous encounters and snaps, the combination for these two elements emphasizes the relationship between casual events and the ordinary course of day-to-day life. The objects, the images, the characters and their history tells about identities in their shaping captured in that very instant when everything is possible. In so it goes, a series of ceramic trays becomes container of causal effects to which colors interventions are added, evoke both poetically and ironically, a way to transmit the experience of nothingness.
"The most frontal work I ever did, laid on the floor to welcome, from the drops to mardì gras, container full of promises, fragments of color, matter's remains, what nature, that is life, leale as whom wants to cooperate to defining a shifting landscape, unpredictable and sometimes playful, because the Almight is merciful for what sometimes enables us to forgive (Chaim Potok)."
Gian Domenico Sozzi
Read and download the exhibition's press release.
GIAN DOMENICO SOZZI was born in Castello di Solaro (BS) in 1960. He studied at DAMS in Bologna, and then moved to Florence, where he started painting in Luciano Bartolini's studio. In Florence he had his first solo show, at Galleria Schema in 1985. He then moved to Berlin and New York, where he based his studio for several years, and where his series, Mar d'Africa, was conceived. Mar d'Africa was shown at Galerie Montenay in Paris and at Galerie Thomas in Munich. He came back to Italy in 1992, settling in Milan, and in the same year he presented at STUDIO STEFANIA MISCETTI the serie r-Idolini, sculptures and photographies witnessing procedures done on well-known and unknown heads. An year later, r-Idolini was shown at Studio Casoli in Milan.
For a more complete artist profile, see the artist page.
more catalogues.
more catalogues by GIAN DOMENICO SOZZI with STUDIO STEFANIA MISCETTI.