GIAN DOMENICO SOZZI | cielospettacolo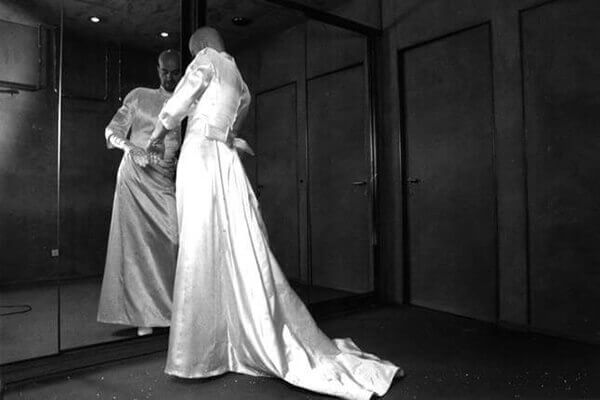 solo exhibition
exhibition opening:
january 26th, 1996  – 6pm
exhibition closing:
february 24th, 1996
opening hours:
tuesday to saturday, 4-8pm
In this, his second solo exhibition at the STUDIO STEFANIA MISCETTI, Gian Domenico Sozzi presents his new cycle of work entitled "cielospettacolo" ("skyspectacular"): an enormous collage of black and white images.
It stages… "A wedding dress for him, [and] people who depict him where, when and how they want to. "In other words, having had the perfect wedding dress made for him, the artist asked various people to photograph him in the manner and place they deemed most fitting.
A unique subject then, and a variety of perspectives and representations. And for us, the spectators, "once again, backstage access will not be granted", as the artist confirms. "If you're lucky you'll be allowed a seat in the stalls – maybe even in the front row – where, distracted by the movements of the orchestra, we often run the risk of missing the delightful 'pizzicato' of the harp that our hero directs towards the sky's spectacle."
Gian Domenico Sozzi allows himself, in this "game" of his, to be both an actor in the hands of numerous directors, and the supreme director of other people's shows, in addition to his own.
"Something must be hidden: but perhaps only because such is the beauty we see that it prevents us from getting beyond the artistic obscenity of a game reminiscent of (Fellini's film) 8 1/2 – because that is really the 'wedge' that lifts it off the ground.
But what a nostalgic delight there is in spying on the cellists in the pit."
Gian Domenico Sozzi was born in Cremona on 1 November 1960. He lives and works in Milan.
works.
here below are some frames from GIAN DOMENICO SOZZI's cielospettacolo.
[et_pb_4divi_masonry_gallery gallery_ids="226799,226800,226801,226802,226803,226804,226805,226806″ _builder_version="4.4.1″ _i="1″ _address="4.0.0.1″ /]
more catalogues.
more catalogues by GIAN DOMENICO SOZZI with STUDIO STEFANIA MISCETTI.