GIAN DOMENICO SOZZI | tête à tête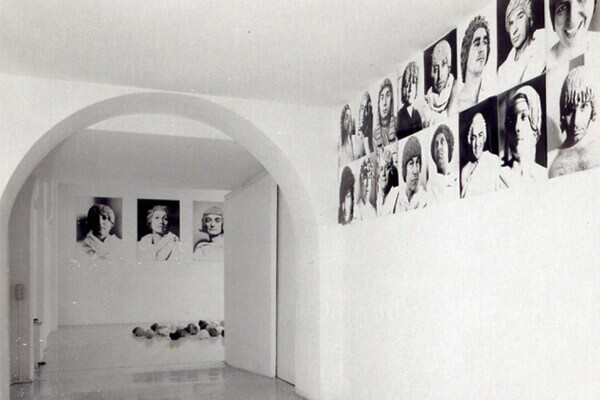 solo exhibition
exhibition opening:
november 5th, 1992 – 6pm
exhibition closing:
december 5th, 1992
opening hours:
tuesday to saturday, 4-8pm
The exhibition season of the galley is inaugurated with the display of new work by Gian Domenico Sozzi, introduced with a text by Meyer Raphael Rubinstein.
How can one define the recent work of Gian Domenic Sozzi? And where is its core? Was the entire procedure simply born to produce photographs? Obviously not. Well, maybe the clay wigs, sculptures that resemble ornate mushrooms, are the end result? Or is its real core the moment of creation, with photographs and wigs becoming relics of an ephemeral event?
But the details of this moment must not be overlooked: the choice Sozzi makes for a certain person, the search for the best moment for both, via long deliberations or spontaneous enthusiasms, the minutes before starting work when Sozzi has to decide how to proceed, which visual and psychological path to follow. A project, a process, a collection of portraits, an excuse for modelled sculptures, an experiment in the art of disguise. It's better not to insist on giving a name to his work, nor to try identifying its central core. In this unexpected escape from the narrow definitions of an exhausted world of art, Gian Domenico Sozzi has made an extraordinary new discovery: the human face.
                                                                                                                                                              Meyer Raphael Rubinstein
Born in Castello di Solaro in 1960, GIAN DOMENICO SOZZI studied art at DAMS in Bologna. In 1983, he moved to Florence where he began working in Luciano Bartolini's studio and where, in 1985, he held his first solo exhibition at Galleria Schema. Since then he moved first to Berlin and then to New York where he created the Mar d'Africa cycle of works that he exhibited in Paris at the Montenay Gallery and in Munich at the Thomas Gallery.
For a more complete artist profile, see the artist page.