GIAN DOMENICO SOZZI | anatra muta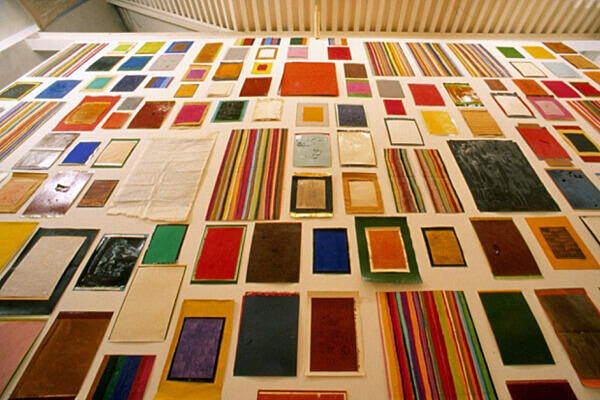 solo exhibition
exhibition opening:
thursady may 11th, 2000 – 7pm
exhibition closing:
june, 2000
opening hours:
tuesday to Saturday, 4-8pm
Birds sing, well or badly.
I sing badly.
The mute duck falls silent.
Boxes of colours and cards that aren't mine scream.
The tape that binds them pops after a year.
Monochromatic backgrounds and golden stripes and pastels.
What a miracle!
For years, everything that he had once locked up in large cardboard boxes comes out. With the discipline of an amanuensis he spreads colours over preprepared paper (almost always small in size): striped and monochromatic areas emerge. He overlays the latter in groups of three, thus setting the stripes free. He doesn't always show the painted face – it isn't always painted; often it is just different pieces of paper of different textures laid one on top of the other. At other times he finds pieces that have already been painted, in grey, blue, white, or very occasionally, black. He calls them Madonnas. He finishes off the rolled paper with pastels, gold leaf and watercolours, then rolls them up again; only a single flap remains visible. It reminds one of a study for a fresco in which the Virgin, intimidated by the angel's annunciation, shelters behind a column.
Read and download the exhibition's press release.
GIAN DOMENICO SOZZI was born in Castello di Solaro (BS) in 1960. He studied at DAMS in Bologna, and then moved to Florence, where he started painting in Luciano Bartolini's studio. In Florence he had his first solo show, at Galleria Schema in 1985. He then moved to Berlin and New York, where he based his studio for several years, and where his series, Mar d'Africa, was conceived. Mar d'Africa was shown at Galerie Montenay in Paris and at Galerie Thomas in Munich. He came back to Italy in 1992, settling in Milan, and in the same year he presented at STUDIO STEFANIA MISCETTI the serie r-Idolini, sculptures and photographies witnessing procedures done on well-known and unknown heads. An year later, r-Idolini was shown at Studio Casoli in Milan.
For a more complete artist profile, see the artist page.
more catalogues.
more catalogues by GIAN DOMENICO SOZZI with STUDIO STEFANIA MISCETTI.