YOKO ONO | lighting piece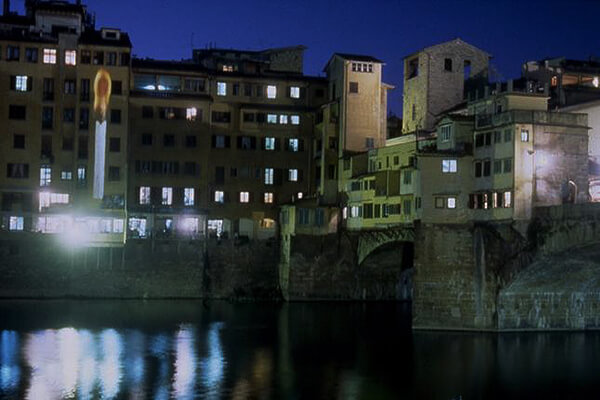 video projections
venue:
ponte vecchio, florence
exhibition opening:
january 12th, 1995
exhibition closing:
january 15th, 1995
Lighting Piece is one of the most famous historical works created by Yoko Ono in the early 1960s at the beginning of her career as a performer.
The work consists of a sequence of photographic shots showing the image of a match that lights up, sparkles and goes out: a simple and daily gesture which, as in a zen story, offers the mind an instant of suspension and emptiness, and which suggests a reflection on the transformation of all things. This consciousness reinforces the beauty and value of all that, while destined to end, illuminates our experience.
Lighting Piece is re-proposed from January 12 to 14, 1995 in Florence, as part of the Pitti Uomo event, in a new version, re-photographed by the artist in color, and projected on buildings and historical monuments of the city with giant format slides.
The event is curated by STUDIO STEFANIA MISCETTI, cultural association for contemporary art based in Rome, and sponsored by Annapurna – Aida Barni, Prato, an internationally renowned cashmere company, which with Yoko Ono makes its debut in promoting its products through contemporary art.
Annapurna – Aida Barni preferred to choose this one among other forms of sponsorship precisely for its characteristic of open artistic gesture, offered to the whole city and therefore in the spirit of the company, that for years has been operating more in the name of a style than in consumption of fashion.
For this purpose the president of the company Aida Barni with STUDIO STEFANIA MISCETTI and Ida Panicelli, art critic and historian, former director of the prestigious Artforum magazine and of the Pecci Museum in Prato, have proposed and entrusted the creation of an event just to Yoko Ono, who has already experimented with artistic communication beyond traditional schemes for many years. The screenings will be held on the three evenings of the Pitti Uomo event, in Piazza della Repubblica, Lungarno Acciaioli, Piazza dell'Unità, from 17.30 to 22.
For the occasion, Annapurna – Aida Barni printed a color catalogue with images of the work accompanied by a text by Ida Panicelli, edited by STUDIO STEFANIA MISCETTI.
YOKO OKO is an artist whose thought-provoking work challenges people's understanding of art and the world around them. From the beginning of her career, she was a Conceptualist whose work encompassed performance, instructions, film, music, and writing.
For a more complete artist profile, see the artist page.
more catalogues.
more catalogues by YOKO ONO with STUDIO STEFANIA MISCETTI.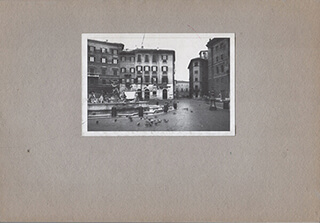 projected artists | obiettivo: roma IV/V | the YOKO ONO film festival / smile event
exhibition catalogue
tipo-lito aurelia 72, rome, 1996