YOKO ONO | smile event | PROJECTED ARTISTS – obiettivo roma: IV/V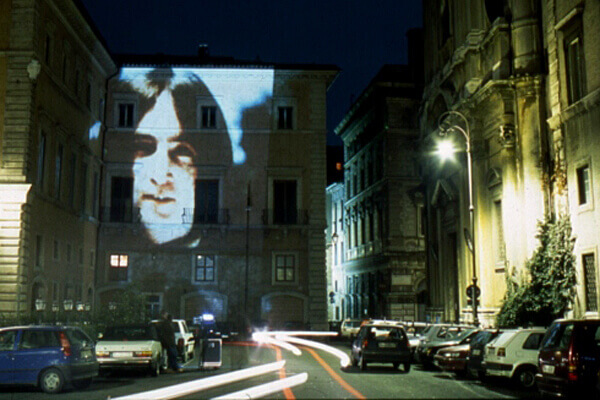 solo exhibition
exhibition opening:
february 15th, 1996 – 6pm-12am
exhibition closing:
february 17th, 1996
With The Yoko Ono Film Festival, a retrospective of films, videos and short films by the Japanese-American artist Yoko Ono at the Palazzo delle Esposizioni, the manifestations of the program of Projected Artists – Obiettivo: Roma continues.
The retrospective, already presented at the Whitney Museum of American Art in New York under the direction of the American Federation of Arts, presents Yoko Ono's entire film production from 1966 (Fluxus period) up until the last productions of 1982, and is accompanied by Smile Event, projections of works of art by the artist onto the face of an ancient building of the capital city located in Piazza S. Apollinare, near Piazza Navona.
The films of Yoko Ono, due to the highly innovative stylistic and formal solutions they adopt, occupy a unique place in independent American cinema. Yoko Ono took part in the general attack of the 1960s on cinematic conventions, challenging the traditions of cinema and developing alternative models of production, distribution and exhibition.
In her filmographic activity, Yoko Ono stands outside the narrative conventions and uses the camera as an eye, a tool of observation. Ways of using cinematic apparatuses (camera, film, process of filming and projection, soundtrack) are radically modified by the artist.
Yoko Ono produced 16 films between 1966 and 1982, all presented in their original version in 16 mm during the retrospective at Palazzo delle Esposizioni. Yoko Ono's debut films, produced and distributed by George Maciunas within the activity of the Fluxus group, provocatively displaced the authority of the room and the traditional passive position of the spectator who is here asked to play an active role in their interaction with the film.
Yoko Ono's films relate to her songs, performances and objects in that they focus directly on materials in a way that stimulates perceptive attention.
YOKO OKO is an artist whose thought-provoking work challenges people's understanding of art and the world around them. From the beginning of her career, she was a Conceptualist whose work encompassed performance, instructions, film, music, and writing.
for a more complete artist profile, see the artist page.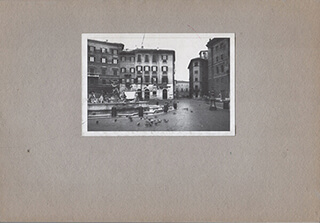 projected artists | obiettivo: roma IV/V | the YOKO ONO film festival / smile event
exhibition catalogue
tipo-lito aurelia 72, rome, 1996