YOKO ONO | a piece of sky
solo exhibition
exhibition opening:
february 12th, 1993
exhibition closing:
march 13th, 1993
opening hours:
tuesday to saturday, 4-8pm
For her first solo exhibition in Rome, YOKO ONO presents an installation designed specifically for the space of the gallery, composed of a large bronze sculpture (270 x 270 cm) and 68 small canvases. 
In recent years, Yoko Ono, a member of the Fluxus group since its initial conception, has enjoyed great international success as evidenced by her exhibition activity in galleries and museums such as the Whitney Museum in New York, and others in the United States, in Japan and in Europe.
Her first performance exhibition, Painting to be stepped on, was organised by George Maciunas at the AG Gallery in New York. The artist presented works that implored the viewer to violate and overturn any preconceived role. In fact, the public was invited to walk on the very surface of the work itself.
In 1966, during the symposium Destruction in art, organised in London by Gustav Metzgr, Yoko Ono executed the performance Cut Pieces: kneeling for one hour, she invited the audience members to cut off pieces of her clothes; whilst subject to the inevitable violence of the performance Yoko Ono talked about the historic suppression endured by women and by other social groups, thus subverting the role of the spectator.
In the following years, Yoko Ono continued as a film-maker, both alone and in collaboration with John Lennon. In the field of music, their collaboration developed into the work entitled Plastic Ono Band in which the artist experimented with the use of one's voice as a musical instrument.
Yoko Ono's conceptual statements are composed of brief texts whose ideas re-appear in her work in different forms, creating a dialogue between the spectator and the work itself.
The artist will be present on the opening night of the exhibition.
YOKO OKO is an artist whose thought-provoking work challenges people's understanding of art and the world around them. From the beginning of her career, she was a Conceptualist whose work encompassed performance, instructions, film, music, and writing.
For a more complete artist profile, see the artist page.
more catalogues.
more catalogues by YOKO ONO with STUDIO STEFANIA MISCETTI.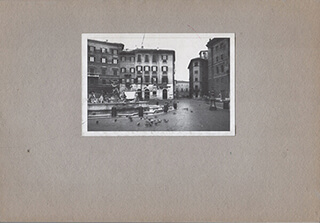 projected artists | obiettivo: roma IV/V | the YOKO ONO film festival / smile event
exhibition catalogue
tipo-lito aurelia 72, rome, 1996