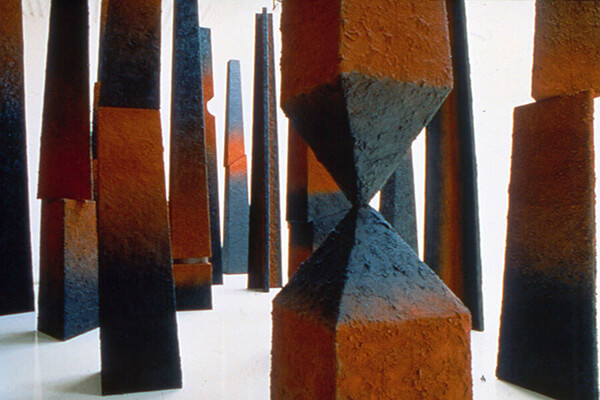 solo exhibition
exhibition opening:
february 16th, 1991
exhibition closing:
march 22nd, 1991
opening hours:
tuesday to saturday, 4-8pm
Fiorella Rizzo lives and works in Rome.
In the middle of the 1970s, she began a thorough investigation into the field of sculpture.
Her interest and experimentation with diverse materials – such as plexiglass, copper, iron, coal, wood, and, above all, earth (an element that frequently reoccurs in her work) – has always been profoundly characterised by metaphors with a strong hermetic character. The work of Rizzo additionally features careful innovations of form which simultaneously preserve a strong grounding in archetypes and in nature.
The current installation was formed to suit the space of the Gallery. Cripta is composed of 22 large scale sculptural works – 2.90 metres in height – executed in wood, iron and earth. In the catalogue, one can find some personal reflections and experiential accounts that were sparked from Rizzo's encounter with the architect Tito Spini.
All in all, Cripta displays a composition (created by the master Bruno Moretti) which exhibits a 'meditation' on nature as well as on the very essence of sound.
Read and download the exhibition's press release.
FIORELLA RIZZO graduated at the Academy of Fine Arts in Lecce, where she was born. She moved to Rome in 1974.
Among her first solo exhibitions, we would like to remember: Centro Culturale per l'Informazione visiva, Rome, 1975; Centrosei, Bari, 1977; Galleria Taide, Salerno, 1978; Galleria Lastaria, Rome, 1979.
For a more complete artist profile, see the artist page.
more exhibitions.
more exhibitions by FIORELLA RIZZO with STUDIO STEFANIA MISCETTI.
more catalogues.
more catalogues by FIORELLA RIZZO with STUDIO STEFANIA MISCETTI.