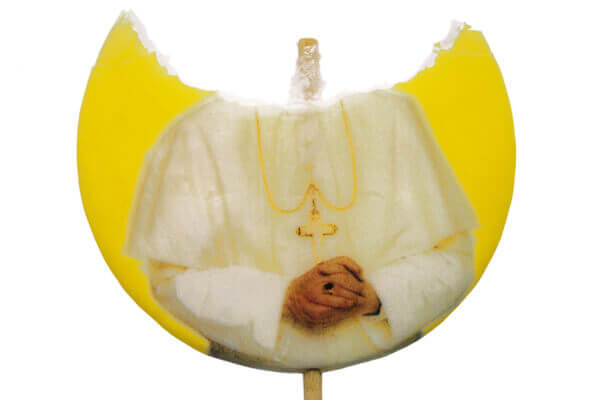 biography.
French artist living in Rome, graduated of the Academy of Arts of Nantes in 1999, and with a master's degree in Research in Art and Design at the Academy of Saint-Etienne in 2000. Her work investigates, via a variety of instruments and media, the anthropological aspects of our society, in a particolar way through the theme of consumtion. A particular attention goes to identity perceptions and feminism. Her works thus far includes photography, video, sculpture, installations, writing and performances.
Her work presented in various galleries, institutional spaces and international festivals, among those:
Palazzo delle Esposizioni (Roma 2009-2008); MACRO Future- Museo d'Arte Contemporanea (Roma 2009-2008); MNAC National Museum of Contemporary Art Bucharest (2009); Museo del Corso (Roma 2008); Velan Centro d'arte contemporanea (Torino 2008); Studio Stefania Miscetti (Roma 2008-2007); Notgallery Naples (2008); CIAC Centro Internazionale per l'Arte Contemporanea Castello Colonna (Genazzano, Roma 2007); Palazzo Lucarini Centro Internazionale per l'Arte Contemporanea (Trevi 2007); Galleria Metis_NL (Amsterdam 2007-2004); C/O Careof Fabbrica del Vapore (Milano 2006 – 2005 – 2002); MLAC Museo Laboratorio di Arte Contemporanea dell'Università "La Sapienza" (Roma 2006); Ex-Macello (Padova 2006); Teatro Miela e Galleria LipanjePuntin (Trieste 2006); Fondazione Arnaldo Pomodoro (Milano 2006); Galleria Civica (Modena 2006); Teatro Sociale (Bergamo 2005); Fournos Center for the Art and New Technology (Atene 2005); QUARTER Centro Produzione Arte (Firenze 2005); Istanbul Contemporary Art Museum (Istanbul 2005); Goethe-Institut (Toronto, Canada 2005); Luigi Pecci Centro per l'Arte Contemporanea (Prato 2005); Museo d'Arte Moderna Casa Serodine Ascona 2004 – 11a Biennale dei giovani artisti d'Europa e del Mediterraneo (Atene 2003); Centro d'Arte Contemporanea (Bruxelles 2001); Biennale internazionale di Design (Saint-Etienne, Francia 2000); Galleria EOF (Parigi 2000).
Among the awards: UNICREDIT Group Prize, ARNALDO POMODORO FOUNDATION (Milano 2006); public award for the video Cantine & Co. at the POETRY FILM FESTIVAL of Berlin in 2002; winner of the competition WHITE PAGES of the Artist Seat Pagine Gialle S.p.A. and first-prize winner in TALK TO THE CITY in Milan in 2005; finalist in the TALENT PRIZE (Fondazione Roma 2008) and the TERNA PRIZE (Gigawatt 2008), Special Mention VANNI AUTOFOCUS 1 PRIZE curated by Olga Gambari (I)
Her work is part of private and public collections, among those: Unicredit Group; AksoNobel Art Foundation Amsterdam, SEAT White Pages Turin.
Her projects have received the support and sponsorship of: Saint-Gobain vetri, Co.Re.Ve Consorzio Recupero Vetri Milano and C/O Fabbrica del Vapore Milano for the project M3; Nordkapp (prêt à porter) for the project EX-VOTO multiple 07; Champagne Lanson for the solo show Omnivore; on behalf of Town of Saint-Etienne for the realization of the project PETITE FORME URBAINE-International Biennial of Design of Saint-Etienne; A.F.A.A. France for artistic travel research and realization of sculptures "cuillères" in Mali with craftsmen from Bamako.
exhibitions.
all exhibitions by NORDINE SAJOT with STUDIO STEFANIA MISCETTI.
catalogues.
all catalogues by NORDINE SAJOT with STUDIO STEFANIA MISCETTI.