SILVIA GIAMBRONE | il danno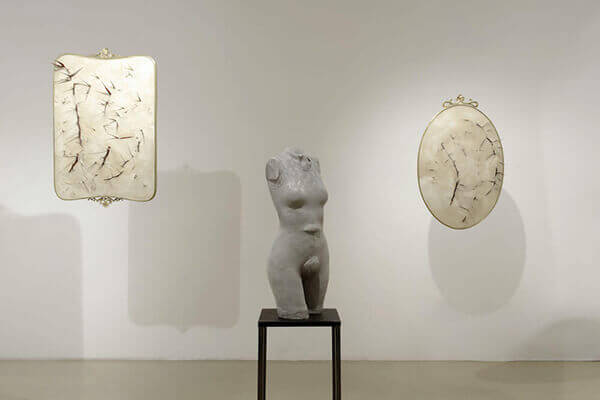 solo exhibition
exhibition opening:
thursday november 8th, 2018
6-9.30pm
exhibition closing:
january, 2019
opening hours:
tuesday to saturday, 4–8pm
or by appointment
STUDIO STEFANIA MISCETTI is delighted to present il danno (The Damage), the second solo exhibition of Silvia Giambrone's work at the gallery, featuring a series of new pieces created specifically for the exhibition. These include the lightbox Dollhouse (2018), several sculptures – Il danno (2018), Mirrors (2018) and Frames (2018) – and the collage Icone (Icons) (2017-2018). In the artist's imaginary the notion of "damage" refers to a silently and deceitfully inflicted wound, which cuts very deep. It may not be physical, or visible to the eye, but not for all that less significant for the individual subjected to it.
The preeminent environment in which this form of violence is enacted is the domestic sphere. As much a psychological as a real space, by breaking away from a concept which should by definition be connected to the reliable and familiar, the domestic, private world becomes the site of an exercise in coercion – an education in subjugation that becomes both language and system, one conceded to and acted on by both victim and perpetrator.
In this context, rather than being the mute observers of the relationship dynamics established, alienated from their context and purpose, objects acquire the potential for renewed meaning, whether in terms of aesthetic value or their ability to bear witness. The pieces on show thus acquire an emblematic status, forcing us not only to recognise the mechanisms of oppression – and become aware, in our turn, of the role we play as witnesses or accomplices – but inviting us to reflect on the various gradations of violence, and the possibilities it can reveal. In this sense, although it may appear to present itself as an insurmountable barrier, the space in which violence exists can become the fertile terrain on which, fierce and painful as it may be, the foundations are laid for a cathartic and liberating reaction.
Read and download the exhibition's press release.
SILVIA GIAMBRONE was born in Agrigento in 1981. She lives and works between Rome and London.
After graduating from the Academy of Fine Arts in Rome in 2006, she attended an Advanced Course in Visual Art at the Antonio Ratti Foundation in 2009.
In 2015 she took part in an artist residency at the International Studio & Curatorial Program (ISCP) in New York; in 2019 she will be in residency at the Swatch Art Peace Hotel in Shanghai, China.
In 2008 she was selected for the Fondazione Agnelli's Young Artist Award, and the following year she won the Fondazione Bevilacqua La Masa's Epson Prize. In 2013 she won the first prize at the Kaunas Biennale, and in 2014 earned a Collectors' Award at the Premio Celeste.
For a more complete artist profile, see the artist page or the artist's website.
more exhibitions.
more exhibitions by SILVIA GIAMBRONE with STUDIO STEFANIA MISCETTI.
more catalogues.
more catalogues by SILVIA GIAMBRONE with STUDIO STEFANIA MISCETTI