NANCY SPERO | sky goddess, egyptian acrobat
NANCY SPERO was born in 1926 in Cleveland, Ohio. She has spent a significant amount of time in Europe, particularly in Paris, Ischia and Florence. Since 1964, she has lived and worked in New York.
In the middle of the 1960s, Spero stopped painting on canvas and instead began exclusively creating technical and material compositions: collage, zinc plates engraved with successive hand impressions originally made on paper.
She exhibits a significant commitment to feminist and pacifist movements.
"From 1974 onwards, I have been concerned with the representation of women – women as protagonists (in a certain utopian sense), women as victims (and especially men's domination and control over our bodies and our sexuality). I decided to look to women and men and to represent women in a way that would not only counteract the conventional story, but that would also allow one to observe the world through the lens of female images.
With my art, I have deliberately attempted to distance myself from the western world which focuses on subjective explorations of individuality, by using techniques of collage and hand prints, and using zinc plates as instruments in place of brushes and spatulas.
In my art, figures derived from diverse cultures coexist simultaneously and are brought to life through gestures, contrasts, repetitions and rhythmic movements.

The figures can thus be considered as hieroglyphs – meanings expressed from a written text that describe a rite of passage such as a passage from birth to old age, and from movement to gesture. All the images are of women: a Japanese doll, a witch trapped in her own body with the legs of a horse, skaters, prehistoric torsos of fertility divinities, athletes, Artemides, the list continues. Woman as victim of war and of rape. Woman as passive or as protagonist, while dancing in processions, elegiac or celebratory, a presence observed from close, or simply grazed by a wondering gaze; the eye, like a video camera moving with selective precision which brings to light diverse female images.
Since June of 1988, I have produced three grand installations featuring hand imprints executed with moulds of plastic materials that are applied directly onto the walls of galleries or of museums. The images literally dance down off the paper and onto the wall".
Nancy Spero, New York City 1989
On the occasion of the artist's first Italian exhibition, a catalogue will be available in the gallery together with biographical and bibliographic textual materials.
works.
here below some images from NANCY SPERO's sky goddes, egyptian acrobat.
exhibition catalogue
progetto grafico sud, pomezia (rome) 1991
more exhibitions.
more exhibitions by NANCY SPERO with STUDIO STEFANIA MISCETTI.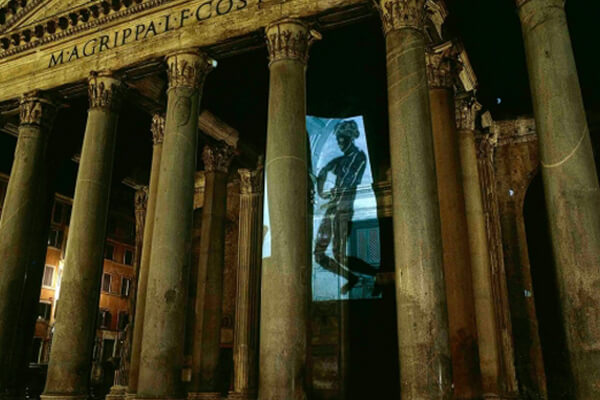 projected artists obiettivo: roma V/V - the black and the red
february 27th - april 12th, 1996
more catalogues.
 more catalogues by NANCY SPERO with STUDIO STEFANIA MISCETTI.