NANCY SPERO | the black and the red III | PROJECTED ARTISTS – Obiettivo Roma: V/V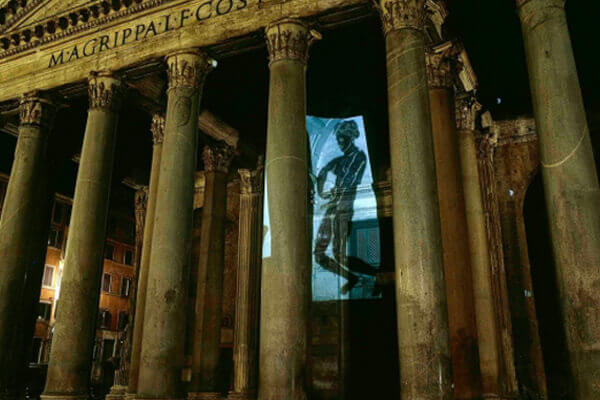 solo exhibition
exhibition opening:
february 27th, 1996 – 6pm
exhibition closing:
april 12th, 1996
opening hours:
tuesday to saturday, 4-8pm
The Projected Artists – Obiettivo: Roma programme concludes with a double exhibition of American artist NANCY SPERO's work at the two galleries behind the initiative. Alongside the two exhibitions the artist's work will be projected onto the facades of some of the capital's buildings; these projections constitute the artists' main involvement in the project created and curated by STUDIO STEFANIA MISCETTI and 2RC Edizioni d'Arte, in partnership with Saritel.
Nancy Spero (born 1926, Cleveland, Ohio) is one of the most prestigious and significant figures in American art today. In recent years her work has also established itself in Europe, with solo museum exhibitions (The American Center, Paris, France; Malmo Konsthall, Sweden; Ulmer Museum, Ulm, Germany; Glypotek am Konigsplatz, Munich, Germany; Kunstlerhaus, Salzburg, Austria), exhibitions at major public institutions (Centre Georges Pompidou, Paris, France) and permanent mural installations (Ronacher Theatre, Vienna, Austria; Von der Heidt Museum, Wuppertal, Germany).
Actively involved in feminist and peace movements from the very start, over her 40-year career Spero has developed a pictorial language that is both deeply bound up in social and anthropological realities and yet far from the mannered tendencies of political correctness. 
This exhibition will feature a series of drawings and collages on paper from 1994 (22 panels of 50 x 275 cm each) entitled The Black and The Red III; previously shown at the Malmo Konsthall, they will be presented at the STUDIO STEFANIA MISCETTI. Figures present in previous work recur in these pieces: Egyptian courtesans, Japanese dolls, acrobats, representations of fertility and figures from Aboriginal culture all overlap in a brightly coloured geometrical grid, the roots of which lie in Greek ceramics, Minimal Art and even heraldic flags and banners.
The 2RC Edizioni d'Arte Gallery will present a series of large-scale rolls of paper made in the 1980s (50 x 275 cm each) alongside Cabaret II: a work in four panels in which a Japanese dancer, two acrobats and a Gorgon are repeated, chasing one another as if representing a colourful piece of theatre staged by the artist.
The work presented at the two galleries will be accompanied, as is customary for the artists taking part in Projected Artists – Obiettivo: Roma, by the projection of artworks on buildings across Rome. Over the first three days from the exhibition opening, (27, 28 and 29 February 1996) a series of 10 high definition images created by the artist will be projected onto the facade of a building in Piazza della Rotonda (Pantheon).
The catalogue features an essay by Alessandra Mammì. All proceeds from the sale of exhibition catalogues will be donated to the OSA Cooperative (Operatori Sanitari Associati), a voluntary organisation supporting the fight against AIDS in the Rome area, selected in consultation with the City of Rome's VIII Department of Social Affairs. The funds raised will help finance the organisation and implement a support service helping those suffering from HIV to get back into work.
Projected Artists – Obiettivo: Roma is a project jointly created and promoted by the STUDIO STEFANIA MISCETTI and 2RC Edizioni d'Arte, in partnership with Saritel S.p.a., a leading provider in the field of telematic services for voice, data and image transmission. The projections are provided by Ricci & Ricci, Rome.
By supporting this project Saritel has enabled the delivery of an event of considerable cultural interest, one which highlights the significance of images and mixes contemporary art with the ancient. This unique offering aims to re-evaluate the role of art in both the community and the city's historical and architectural heritage.
Projected Artists – Obiettivo: Roma is supported by of the City of Rome, the European Commission's Representation in Italy, the Presidenza del Consiglio dei Ministri (The Office of the Italian Prime Minister), USIS (the Embassy of the United States of America), The Japan Foundation and the American Federation of Arts.
Press Office: Antonio Arévalo
NANCY SPERO (August 24, 1926 – October 18, 2009) was an American visual artist.
Born in Cleveland, Ohio, Spero lived for much of her life in New York City. She married and collaborated with, artist Leon Golub. As both artist and activist, Nancy Spero had a career that spanned fifty years. She is known for her continuous engagement with contemporary political, social, and cultural concerns. Spero chronicled wars and apocalyptic violence as well as articulating visions of ecstatic rebirth and the celebratory cycles of life.
Her complex network of collective and individual voices was a catalyst for the creation of her figurative lexicon representing women from prehistory to the present in such epic-scale paintings and collage on paper as Torture of Women (1976), Notes in Time on Women (1979) and The First Language (1981). In 2010, Notes in Time was posthumously reanimated as a digital scroll in the online magazine Triple Canopy. Spero has had a number of retrospective exhibitions at major museums.
for a more complete artist profile, see the artist page.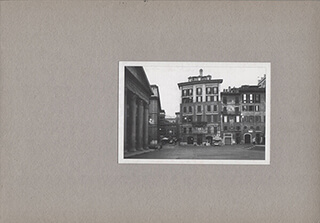 projected artists | obiettivo: roma V/V | the black and the red III / cabaret II
exhibition catalogue
tipo-lito aurelia 72, rome 1996
more exhibitions.
more exhibitions by NANCY SPERO with STUDIO STEFANIA MISCETTI.
more catalogues.
more catalogues by NANCY SPERO with STUDIO STEFANIA MISCETTI.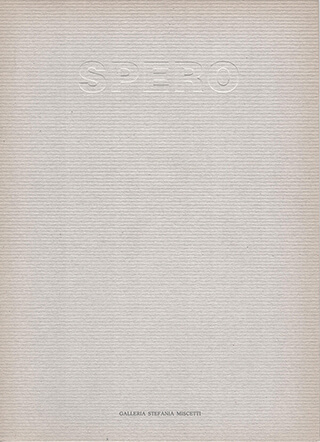 sky goddess, egyptian acrobat
exhibition catalogue
progetto grafico sud, pomezia (rome) 1991