MARIA LAI | la leggenda di maria pietra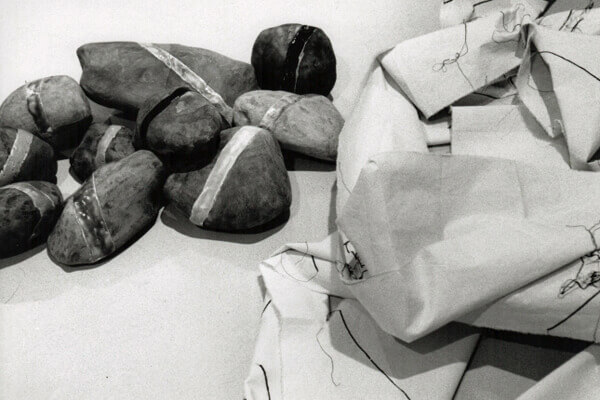 solo exhibition
exhibition opening:
june 6th, 1991 – 7pm
opening hours:
tuesday to saturday, 4-8pm
MARIA LAI was born in 1919 in Ulassai (Nuoro, Sardinia). After studying under Arturo Martini at the Venice Academy of Fine Art, her artistic output has touched on a number of different fields: from land-art projects, book–objects, geographical maps, and cement and terracotta sculptures.
Since 1985 she has been involved in theatre projects that aims to recover popular folk mythology. Her images are designed to encourage personal and collective involvement, seeking a more direct relationship between work and performer.
She has made two theatre pieces in 1991: Il Viaggiatore Astrale (The Traveller to the Stars) and La pietra e la parola (The Word and the Stone), the latter inspired by a fable written by Giuseppe Dessi, accompanied by readings of Lamberto Pignotti's poetry.
At the gallery the artist will present material related to an old popular folk tale, La Leggenda di Maria Pietra. The performance makes use of video and photography, along with stone and textile artworks, with improvised musical accompaniment by Giuseppe Scotese.
The performance–installation will take place on Thursday 6th June at 7pm.
Curated by Federica Di Castro
works.
here below are some frames from MARIA LAI's la leggenda di maria pietra.
[et_pb_4divi_masonry_gallery gallery_ids="226458,226464,226459,226460,226461,226462,226463,226457″ gallery_columns="2″ _builder_version="4.7.7″ _i="1″ _address="4.0.0.1″ /]
more exhibitions.
more exhibitions by MARIA LAI with STUDIO STEFANIA MISCETTI.