GIORGIO VIGNA | noctiluca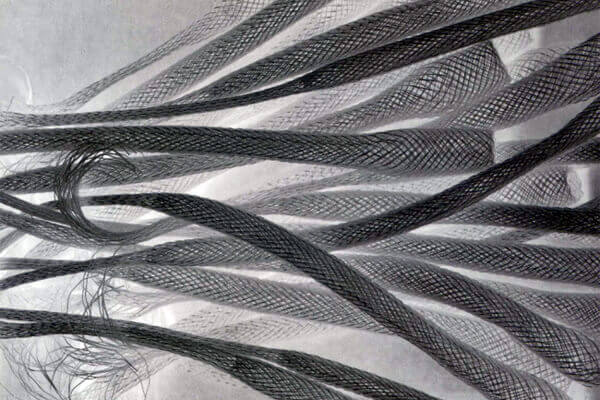 solo exhibition
exhibition opening:
wednesday december 7th, 1994 – 6.30pm
exhibition closing:
january 12th, 1995
opening hours:
tuesday to saturday, 4-8pm
Noctiluca sees GIORGIO VIGNA present the latest creations from a rich and complex creative process for the very first time.
These pieces are creatures that seem to come alive from the very paper on which the artist's work began. Three-dimensional figures of light and shadow emerge out of abstract, black and white geographies composed of spots, luminescences and breaks, revealing the particular landscape of his work. And amid this strange, black and pearly white textile matter, aerial sculptures take shape. As ever with Vigna's work, the adventure involves more than the eyes: a tactile experience completes the visual one in a sometimes contradictory, always unpredictable relationship.
From his famous weightless "stones" – devoid of all petrous weight, and imbued with a fake gravitational pull – to the creatures of Noctiluca, which appeal to our touch just as they nearly slip through our fingers, Vigna's objects enter into a holistic relationship with the body of the visitor: they can be looked at, touched, and sometimes even worn.
Alongside these portable aerial sculptures that respond to the play of the body, and the black and white paper which is their natural habitat, the exhibition also features a range of samples from Vigna's entire creative process – from his extraordinary "lapidarium" of stones of every material and size, to broken geographies, jewels in blown glass, and the most varied findings from the peripheral universes he has explored. All of them are silent witnesses to an infinity of possible worlds.
For a more complete artist profile, see the artist page.
works.
here below some images from GIORGIO VIGNA's noctiluca.
[et_pb_4divi_masonry_gallery gallery_ids="231654,231655,231656,231661,231658,231657,231659,232397,232398,232399,232400,232403,231660,232401,232402,1099″ gallery_columns="4″ _builder_version="4.7.7″ _module_preset="default" _i="1″ _address="4.0.0.1″ /][et_pb_4divi_masonry_gallery gallery_ids="231103,231101,231094,231095,231096,231097,231098,231099,231100,231102″ gallery_columns="4″ _builder_version="4.7.5″ _i="2″ _address="4.0.0.2″ /]
more exhibitions.
more exhibitions by GIORGIO VIGNA with STUDIO STEFANIA MISCETTI.
more catalogues.
more catalogues by GIORGIO VIGNO with STUDIO STEFANIA MISCETTI.