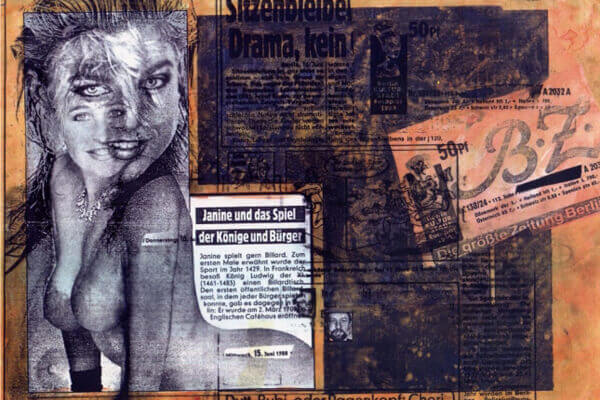 solo exhibition
exhibition opening:
april 6th, 1993
exhibition closing:
may 8th, 1993
opening hours:
tuesday to saturday, 4-8pm
For her first solo exhibition in Rome, Alba D'Urbano presents a video-sculptural work and a series of three hundred works of photocopies, residuals of the material used to execute the video subsequently re-elaborated in pictorial form.
The point of inspiration for this work is the third page of the newspaper Berlinger Zeitung, the most widely diffused newspaper in West Berlin which the artist collected for the entire year of 1988; with the attitude of an archaeologist she offers to the viewer a testimony of our present day in the form of findings accompanied with a question mark.
Since 1984, Alba D'Urbano has been working in Berlin and Frankfurt, experimenting with and elaborating on the interaction between diverse visual languages such as painting and video.
From 1987 to 1991 the artist has been working with writing and its continuous loss of function by focusing her attention on the relationship between reality and the information that is increasingly provided as 'data' in electronic circuits.
In the exhibition Esposizione impraticabile in the Municipal Gallery of Frankfurt of 1992, the central theme of Alba D'Urbano's current research is displayed in a radical manner; namely that of the ever-increasing disconnect between the physical reality of an artistic object, and the subsequent reality that is reproduced and duplicated by the media.
ALBA D'URBANO (born April 13, 1955) is a textile and video artist.
D'Urbano's most notable work was 1995's hautnah (close to the skin); a series of garments imprinted with life-size digital photographs of her own skin. After an exhibition in 1999, critics stated she depicted nudity as fashionable, provoked voyeurism, and made skin (the external body) just another interface in a world. In addition to her own work, D'Urbano has been a critic and an art philosopher. Since 1995, D'Urbano has been a professor at Hochschule für Grafik und Buchkunst, in Leipzig, Germany.
For a more complete artist profile, see the artist page.
more exhibitions.
more exhibitions by ALBA D'URBANO with STUDIO STEFANIA MISCETTI.
more catalogues.
more catalogues by ALBA D'URBANO with STUDIO STEFANIA MISCETTI.