GIANNI MELOTTI | chi ce l'ha, lo sa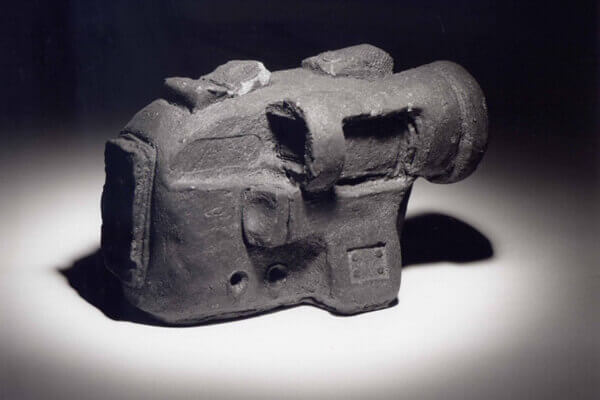 solo exhibition
exhibition opening:
december 10th, 1992 – 6pm
exhibition closing:
january 23rd, 1993
opening hours:
tuesday to saturday, 4-8pm
Gianni Melotti defines himself as a "fotografatore" (photographer), a researcher of images, and for some years he has been working with the concept of simulacrum. His works of art challenge the era of the technical reproducibility of art works via the systematic use of impertinent materials. His work also exhibits a desire to practice the craft in line with its own logical coherence. Following a timeless passion for silicone paintings, with this series of sculptures Melotti returns to a basic, primitive and Neolithic material.
With his clay works, he creates a sort of sculptural design from life, fascinated as he is by the incumbent and omnipresent field of technology which has invaded his formal memory. The everyday subjects of his visions are those objects that appear to us more for their aesthetic stylistic qualities than for their specific functionality. And which seduce us, making us passively fall in love with their forms. Here then, is the monochrome monolith of a TV COLOUR STEREO 29, and of a WALKMAN, AM-FM, PC, DAT, FAX, etc., made using different types of clay, left at its normal state of dehydration, or cooked with traditional or primitive-Oriental combustion techniques.
Chi ce l'ha, lo sa could be an archaeological exhibition executed in a distant future consistent with our contemporary technology.
Namely: the technical work of art in the age of its artistic reproducibility.
works.
here below are some images from GIANNI MELOTTI's chi ce l'ha lo sa.
[et_pb_4divi_masonry_gallery gallery_ids="226530,226527,226528,226529,226526″ gallery_columns="4″ posts_number="5″ _builder_version="4.7.7″ _i="1″ _address="4.0.0.1″ /]
more exhibitions.
more exhibitions by GIANNI MELOTTI with STUDIO STEFANIA MISCETTI.
more catalogues.
more catalogues by GIANNI MELOTTI with STUDIO STEFANIA MISCETTI.