CLAUDIO PIERONI | sala macchine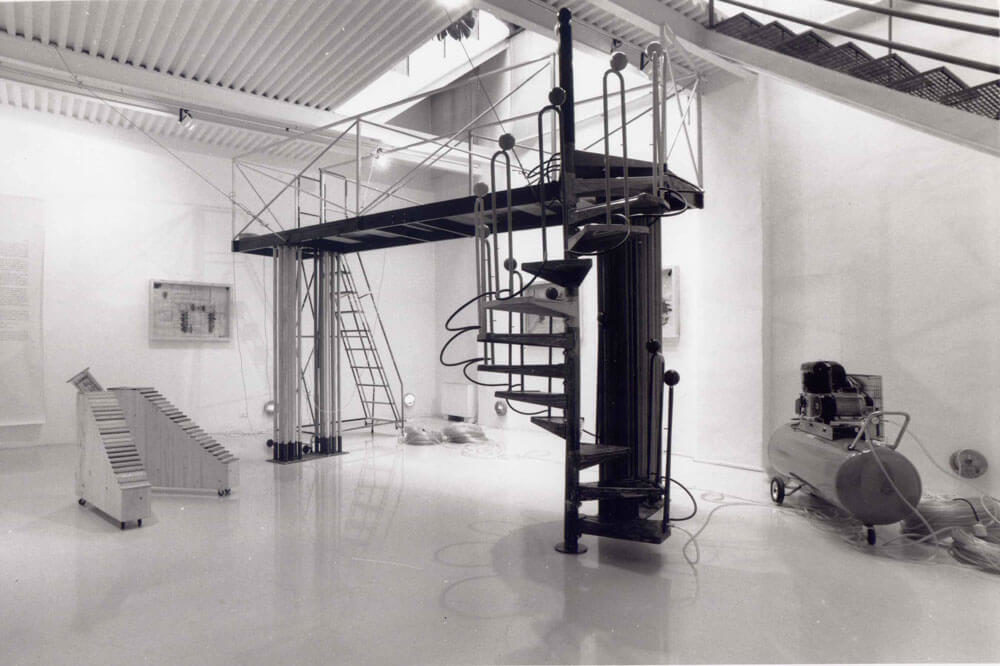 solo exhibition
exhibition opening:
march 26th, 1992 – 6pm
exhibition closing:
april 30th, 1992
opening hours:
tuesday to saturday, 4-8pm
Claudio Pieroni lives and works in Rome.
The two exhibitions that are jointly inaugurated are more than ideally connected.
In fact, the exhibition spaces of Via delle Mantellate and of Piazza de' Ricci, spaces that are already physically close to each other, on this occasion establish a degree of greater contiguity and of constant dialogue; a bridge present in the work of art, as in this part of the city, provides a passageway from one river bank to another thus connecting the galleries and evoking the idea of a journey and a physical and experiential passage.
The splitting of the places evokes a sense of double displacement, and simultaneously induces the viewer to consider the principle, modality and possibility of a "splitting of the self." All this is expressed through a journey which advises, but does not force, nor privilege a certain direction.
The "overbridge" of SALA MACCHINE, in combination with the labyrinthine modularity of DX – SX, feature disturbing elements in their structures (such as air currents, words, colours, designs, lights…) which interrupt the routes' linearity, and solicit a halt, a reflection and a step backwards.
SALA MACCHINE: a large structure made of metal and painted wood, a sort of "overbridge" animated by air currents, and passable like a real bridge.
A written piece of poetry by Daniele Pieroni engages with the work.
DX – SX: modular elements in painted wood create a three-dimensional labyrinthine route in the space of the first room, and project, this time in a two-dimensional manner, on the multitude of designs present in the second.
works.
here below are some images from CLAUDIO PIERONI's sala macchine.
[et_pb_4divi_masonry_gallery gallery_ids="232454,232449,232450,232446,232444,232443,232452,232455,232451,232445,232447,232448″ gallery_columns="4″ _builder_version="4.7.7″ _i="1″ _address="4.0.0.1″ /]
more exhibitions.
more exhibitions by CLAUDIO PIERONI with STUDIO STEFANIA MISCETTI.
more catalogues.
 more catalogues by CLAUDIO PIERONI with STUDIO STEFANIA MISCETTI.