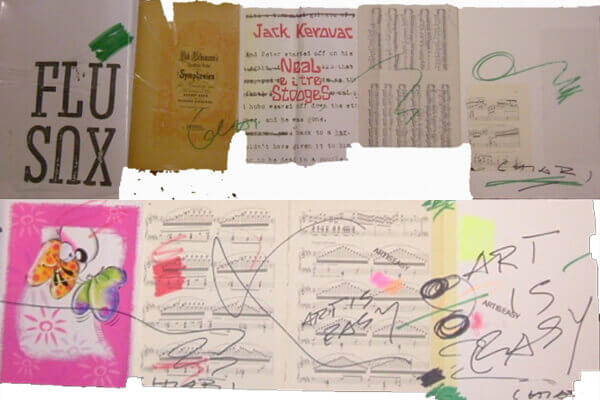 biography.
PIERO MOTTOLA (Caserta 1967) is an artist and experimental musician who teaches Sound Design and Decorative Sculpture at the Academy of Fine Arts in Rome. In 1996 he founds the LER, Noise Aesthetics Laboratory, research center on relational and emotional aspects of noise, of which he is the director.
He has studied Eventualism at the Jartrakor Studies Centre in Rome where, in 1988, he held his first solo exhibition featuring the interactive experiments Improvement Worsening and Beautiful Ugly. He works on the listener/viewer's subjective response to and free interpretation of visual and sound structures, through experiments and measurements. Piero Mottola has been invited by several international universities to give lectures and hold master courses on the relationship between noise and emotion.
The outcomes of his research have been published in the book Emotional Walks, from Noise to Relational Music, which has been presented at different Italian and international universities as well as on broadcasts by Rai Uno, Rai Radio Tre and Radio Cultura Argentina.
This research has also been presented at various museums, and national and international institutions: FIAC, Grand Palais, Paris (1992); Palazzo delle Esposizioni, Rome (1994); Hochschule für Musik und Theater, Leipzig (2011 and 2014); 54th Venice Biennale (2011); 11th Havana Biennial (2012); Galleria OltreDimore, Art Basel, Basel (2012); 2nd China-Italy Biennial in Beijing (2013) and Turin (2015); MAMBA, Museo de Arte Moderno, Buenos Aires (2013); Galleria Nazionale d'Arte Moderna, Rome (2013); Galleria Pino Casagrande, Rome (2003 and 2010); Fondazione Volume-RAM and Museo Radioartemobile, Casa dell'Architettura, Rome (2010); Fondazione Spazio13, Warsaw (2010); Fondazione Signum, Venice (2010); MACRO, Museo d'Arte Contemporanea, Rome (2015); Museo Hermann Nitsch-Fondazione Morra, Naples (2009 and 2015); MAC, Museu de Arte Contemporanea, Santiago, Chile (2016); 4th China-Italy Biennial, Art District 789, Beijing (2016); Beijing Institute of Graphic Communication (2017); Istituto di Cultura Italiano in Beijing (2017); Nina Torres Gallery, Miami River Art Fair  (2017); ISA Universidad de Las Arte de Cuba, Havana (2017); Contemporary Cluster Gallery, Roma (2018); CASA MORRA, Fondazione Morra-Museo Hermann Nitsch, Napoli (2018); Certosa di S. Martino, Castel S. Elmo, Napoli (2018,2019); Fudan University, Shanghai (2019); CCK Kirchner Cultural Center, Buenos Aires (2019); Istituto Italiano di Cultura, Buenos Aires (2019); Museo Nacional de Bellas Artes, Havana (2019).
For further information visit PIERO MOTTOLA's website.
exhibitions.
all exhibitions by PIERO MOTTOLA with STUDIO STEFANIA MISCETTI.
catalogues.
all catalogues by PIERO MOTTOLA with STUDIO STEFANIA MISCETTI.