LUIGI PELLEGRIN | alle porte dell'architettura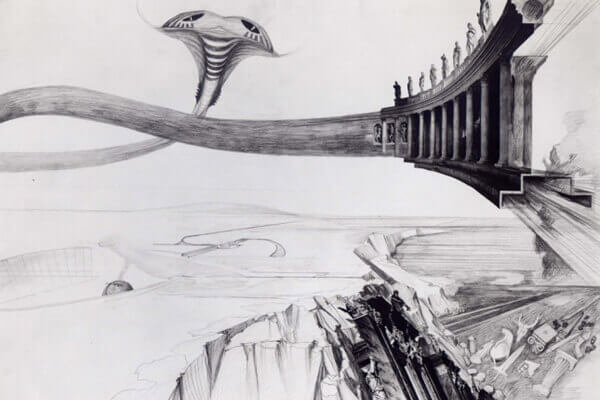 solo exhibition
exhibition opening:
june 16th, 1992 – 6pm
exhibition closing:
september 30th, 1992
opening hours:
monday to friday, 4-8pm
Exhibited for the very first time are a series of designs by the architect Luigi Pellegrin from the 1960s up until the present day.
The designs on display were not selected on the basis of a chronological criterion, but by privileging a thematic journey expressed via the division of the works into twenty-three subjects.
The collection consists of graphic expressions that are essentially produced by the invocation of the pre-prehistoric and a possible reflection on shreds of the future. 
Luigi Pellegrin
The exhibition features 21 large scale designs (ranging from about 150 x 300 cm to 100 x 200 cm) as well as a large collection of designs of smaller sizes.
In the gallery, a catalogue will be available, and will contain about two hundred of the designs accompanied by a text written by the architect as well as an extract written by Achille Bonito Oliva.
Professor of Architectural Design at the University La Sapienza in Rome, he has also taught courses as a visiting professor in Houston, Los Angeles and Boston.
He has a long and intense career that ranges from the construction of villas to the patenting of prefabrication systems, from the building of residential complexes to the construction of hotel and industrial buildings. He has also worked extensively abroad, particularly in Venezuela, Nigeria, Chad and Saudi Arabia. He has collaborated with companies in the Italstat group.
For many years, he has worked on building schools by focusing on two points: the production of didactically innovative space and systematic productivity.
He was the first to use polystyrenes in construction as part of his collaboration with SIR which involved designing residential modules and schools which then came to be built in developing countries (e.g. in Saudi Arabia 50 were built). The prototype of the residential module produced with SIR was presented to the Fiera di Milano in 1975.
 He has developed and patented some building prefabrication systems, whilst also dealing with the optimisation of production and the use of products, as well as coordinating the production of company components under the direction of Montedison.
for a more complete artist profile, see the artist page.
more exhibitions.
more exhibitions by LUIGI PELLEGRIN with STUDIO STEFANIA MISCETTI.
more catalogues.
more catalogues by LUIGI PELLEGRIN with STUDIO STEFANIA MISCETTI.