JUDITH COWAN | sex, birth, sex, death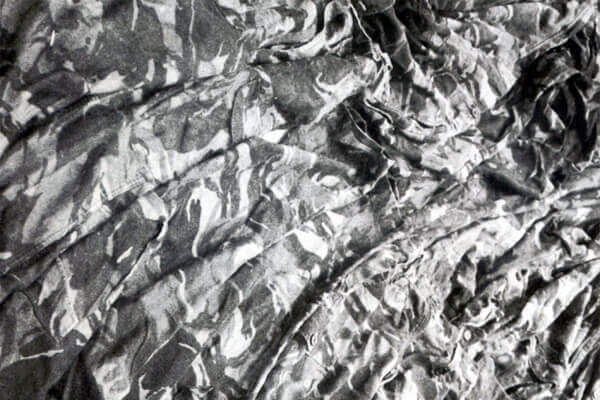 solo exhibition
exhibition opening:
january 19th, 1995 – 6pm
exhibition closing:
february 18th, 1995
opening hours:
tuesday to saturday, 4-8pm
For her first solo exhibition in Italy Judith Cowan presents a series of sculptural objects, geometrical figures that take shape in the amalgamation of fullness and emptiness, clarity and opacity. The artist has employed familiar, commonly used materials to create these pieces, such as formica, or camouflaged military clothing. As is often the case in Cowan's work, in these sculptures the perception of space is inextricably linked to the perception of time.
The gentle flow of time establishes a relationship between what we are close to and distant from, between the opacity of the folded trousers and the transparent light of the surfaces resembling photographic film.
The physicality of matter and emptiness, opacity and transparency, blend in such a way as to deny the representation of a volume and act as space. The pieces thus emphasise a symbolic dimension that is both stasis and movement, a space both intermediary and beyond the threshold.
The artist's attention is focused on how much architectural forms are made of absence.
more exhibitions.
more exhibitions by JUDITH COWAN with STUDIO STEFANIA MISCETTI.
more catalogues.
more catalogues by JUDITH COWAN with STUDIO STEFANIA MISCETTI.