CHRISTIANE LÖHR | CHRISTIANE LÖHR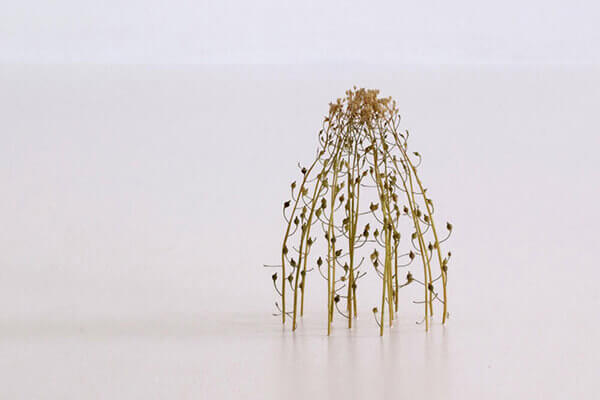 solo exhibition
exhibition opening:
wednesday may 19th, 2004 – 6.30pm
exhibition closing:
june 25th, 2004
opening hours:
monday to friday, 4-8pm
CHRISTIANE LÖHR's works are based on direct contact with nature, in which the artist finds her materials: seeds of plants such as wild thistle, ivy, for sculptures that look like daily objects or small architectures, horsehair for ornamental "drawings" made in a wide variety of dimensions. When she makes her sculptures, Christiane Löhr seems to be guided by the idea of an inner geometry of the seeds shapes, which look like models for an imaginary architecture that is surprisingly light and fragile but strong and solid at the same time. Alongside her research on nature in its variety of shapes, Christiane Löhr holds a strong interest towards ancient and sacred architecture, such as the fascinating structures of Western cathedrals or, as in her most recent work, Hindu temples and Far East holy places. As she says, these places "bring about a different kind of physical perception, making us feel closer to the sky or to the earth: a completely different point of view".
In her solo show at STUDIO STEFANIA MISCETTI in Rome, Christiane Löhr will realize an installation made of very light ivy seeds constructions placed on a horizontal plane, that branch off and expand onto the walls so that they create a spatial drawing which hints, through dynamics of full and void, to an aspiration to reach a perfect harmony and balance. This series of new works also includes a spatial horsehair "drawing", that stems from one point and develops around it – right as in the plans of some ancient architectures – occupying the surrounding space with a slow and subtle movement.
Christiane Löhr's work can be connected to the teachings of some of the great masters of 20th-century art: the positive and utopian spirituality of Joseph Beuys, the frailty and expressive power of small-scale works by Marisa Merz, natural laws, time cycles and energy fluxes explored by Robert Smithson and Walter de Maria, the preciousness and ailing power of nature that can be traced in the work of Wolfgang Laib. Some of these issues seem to be present and urgent, maybe now more than ever, and this young German artist deals with them in an entirely personal manner, giving back to art its constructive and positive spirit and proving once more its capacity to create "light" projects and utopias.
Read and download the exhibition's press release.
Christiane Löhr, born in Wiesbaden in 1965. Lives and works in Köln, Germany and Prato, Italy.
For a more complete artist profile, see the artist page.
more exhibitions.
more exhibitions by CHRISTIANE LÖHR with STUDIO STEFANIA MISCETTI.
more catalogues.
more catalogues by CHRISTIANE LÖHR with STUDIO STEFANIA MISCETTI.