ANYA GALLACCIO | la dolce vita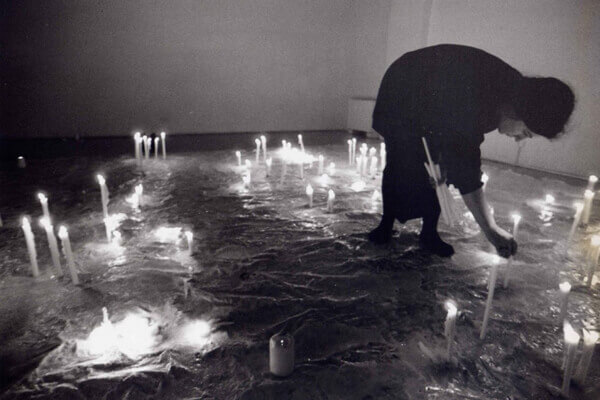 solo exhibition
exhibition opening:
january 27th, 1994 – 6pm
exhibition closing:
february 24th, 1994
opening hours:
tuesday to saturday, 4-8pm
Anya Gallaccio was born in Glasgow in 1963 and she lives and works in London.
The artist's activity began in the late 1990s, and is characterised by the use of materials from among the most varied gatherings of the panorama of everyday life, usually organised in the form of installations.
Principally flowers, but also vapour, metals, fruit, rags, wool and chocolate intertwine in the work of Gallaccio with the aim of giving life to settings "in time." In fact, the presence of organic materials which are susceptible to alterations and decompositions condition the work as an essential variable by putting it in close relationship with the "mutation of things", with temporal variability, with life and its precariousness. In other ways, her work can easily be seen as embodying the feeling of loss (even resulting from minimal everyday values and rituals) that characterise our time.
Anya Gallacio's installation is entitled La dolce vita not only in reference to the homage made to our city in her first Italian solo show, but also, in reference to Fellini's memory, to the type of seemingly "dolce" (sweet) start of the end of things.
works.
here below some images from ANYA GALLACCIO's la dolce vita.
[et_pb_4divi_masonry_gallery gallery_ids="226602,226603,226604,226605,226606,226607,226608,226609″ _builder_version="4.4.1″ _i="1″ _address="4.0.0.1″ /]
more exhibitions.
more exhibitions by ANYA GALLACCIO with STUDIO STEFANIA MISCETTI.
more catalogues.
more catalogues by ANYA GALLACCIO with STUDIO STEFANIA MISCETTI.