STUDIO LABICS | structures (3 structures, 50 models)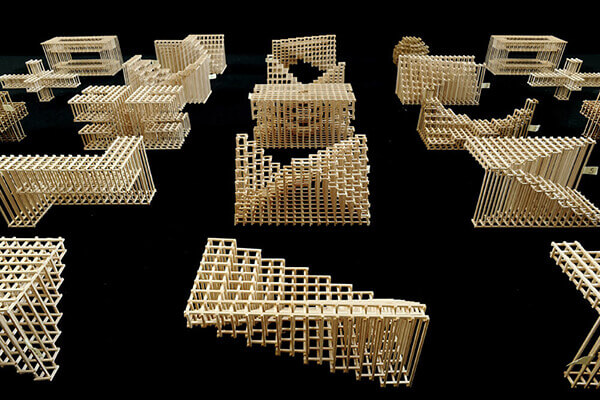 solo exhibition
exhibition opening:
thursday april 23th, 2015 – 6pm
exhibition closing:
july 17th, 2015
opening hours:
monday to friday, 4–8pm
or by appointment
STUDIO STEFANIA MISCETTI is proud to present STRUCTURES, an installation consisting of 50 architectural models realized by Studio Labics between 2014 and 2015, exhibition curated by Luca Molinari.
The models were constructed from an abstract matrix whose generators can be traced back to a few simple spatial archetypes that exemplify, in a synthetic manner, some of the recurring themes in the studio's research: the boundary between interior and exterior, between dilated and compressed spaces, between singular object and series, between architecture and landscape. Taken together, the models constitute a landscape in which it is investigated, in an iterative manner, the relationship between structure and space; a landscape in which architecture is not described or prefigured in an allusive or analog way, as in drawing, but it is simulated: the models are themselves architecture. The exhibition depicts not an analysis or an exercise in form but a pronoucement on the role of structure in architecture.
In conjunction with the exhibition the book STRUCTURES will be published by Nero Publishing with texts of Luca Molinari and Labics.
Read and download the exhibition's press release.
Based in Rome, LABICS is an architectural and urban planning practice founded in 2002 by Maria Claudia Clemente and Francesco Isidori. The name of the practice – Labics – expresses the concept of a laboratory, a testing ground for advanced ideas. Combining the theoretical approach with applied research, the field of interest of the office extends from the interior small scale to the scale of urban masterplans, going through the different scales and complexities of the project.
For a more complete profile of the duo, see the artists' page.