PIETRO FORTUNA | metatròn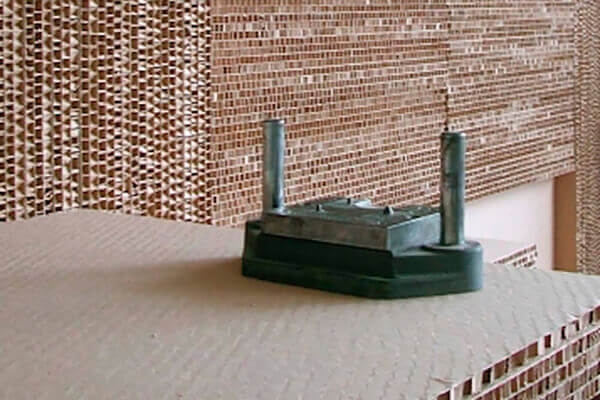 solo exhibition
exhibition opening:
thursday november 14th, 2002
exhibition closing:
january 18th, 2003
opening hours:
tuesday to saturday, 4-8pm
STUDIO STEFANIA MISCETTI opens the new exhibition season with Metatròn, a project by Pietro Fortuna conceived specifically for the gallery and tailor-made for its space.
Made of compressed honeycomb cardboard, Metatròn is an enormous shape built against one of the gallery's walls. As it juts out from the wall it reveals different profiles, aiming to redesign the space in which it is located, even as it is devoid of any kind of functionality, be it in terms of volume or shape. Indeed, Metatròn rather seeks to assert its own existence, necessary and specific, in accordance with a purely non-representational, abstract logic. Despite its imposing volumetric structure and architectural feel, Pietro Fortuna's installation refers more to an idea of design, one set free in space: a sort of "two-dimensional" design that might be considered one of the central aspects of the artist's entire practice and output.
The title takes its inspiration from Jewish tradition, indicating the figure of the angel closest to God, the conduit for His thoughts and ideas on the world.
Metatròn is a piece that relates to "a conscious ethical instance driving the work beyond the conformity of genres". For Pietro Fortuna, "artworks are not entrusted to the world's appraisal through the acquisition of formal models, they seek to affirm the primacy of art in bearing witness to the irreparable nature of the real."
The Gallery gratefully acknowledges the support of Comieco in making this exhibition possible.
Read and download the exhibition's press release [ITA].
PIETRO FORTUNA was born in Padua in 1950, he lives and works between Rome and Brussels.
For a more complete artist profile, see the artist page.
more exhibitions.
more exhibitions by PIETRO FORTUNA with STUDIO STEFANIA MISCETTI.