MALGORZATA MARKIEWICZ | flowers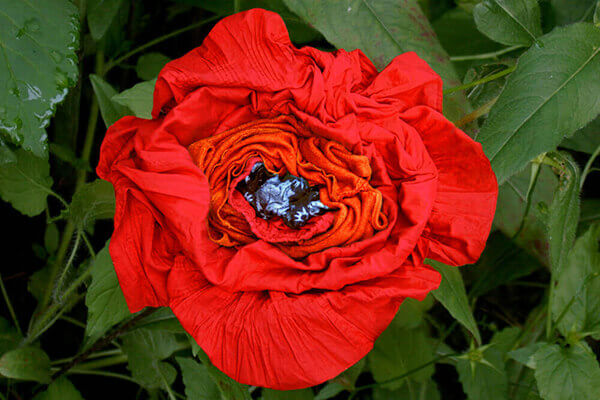 solo exhibition
exhibition opening:
friday may 5th, 2006 – 7pm
exhibition closing:
june 3, 2006
opening hours:
tuesday to saturday, 4-8pm
STUDIO STEFANIA MISCETTI is pleased to announce the exhibition Flowers, first Italian solo show of Malgorzata Markiewicz, born in Krakow in 1979, where she lives and works.
After her secondary education at Fine Art school of her city, she begins with a series of temporary outdoor projects (Motyw zoltego in 2002 and Oddychaj in 2004), realized as site specific works for suburbs area, using objects and symbols (to nurture encounter and reflection). Both in her installations and performances she likes to experiment with a variety of materials such as clothes, stitches, carpets, stools. These materials reveal different sculptural aspects; at the same time they strengthen the idea of a work in progress, continuously rising and changing.
With Flowers Malgorzata Markiewicz presents a serie of photographic works and sculptures: clothes and material which become always renewed appearances and identities.
"Flowers are soft-sculptures made by taking off the clothes I wear. I undress myself and make documentation of the event. The work is an action I perform in a park; I leave the cloths in the grass, between the stone park monuments. The visitors to this exhibition have to search for my sculptures in the park area. The mystery of these objects lets the imagination create the portrait of a woman who undresses herself and walks in a specific environment nude. This work can be interpreted as beautiful, but very often clothes such as knickers and tights can be found on the grass in a park, city or wood: woman loose these items of clothing as in a case of rape. In this situation we also have mystery, a very frightening mystery."
Malgorzata Markiewicz – 2004
In collaboration with Istituto Polacco, Rome and Program Gallery, Warsaw.
Read and download the exhibition's press release.
MALGORZATA MARKIEWICZ (Krakow, Poland 1979) lives and works in Krakow, Poland.
For a more complete artist profile, see the artist page.
more exhibitions.
more exhibitions by MALGORZATA MARKIEWICZ with STUDIO STEFANIA MISCETTI.