GAIA SCARAMELLA | officine emotive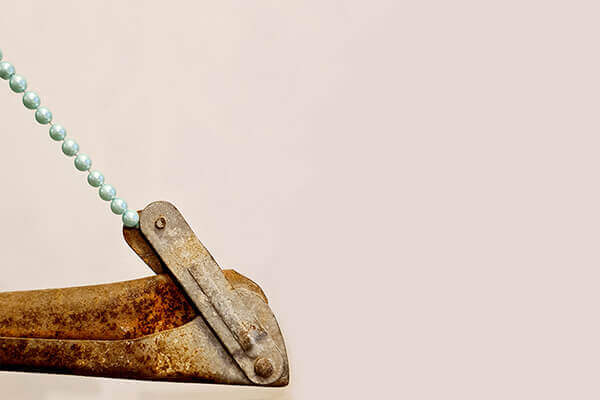 solo exhibition
exhibition opening:
thursday 17th march, 2022,
from 6 to 9 pm
exhibition closing:
17th june, 2022
opening hours:
monday to friday, 4-8pm
STUDIO STEFANIA MISCETTI is proud to present Officine emotive, Gaia Scaramella's first solo exhibition at the gallery, curated by Veronica He and Pia Lauro.
Made up of entirely new pieces created over the last year, these works tackle the question of interpersonal relationships.
While usually of a familial or emotional character, they not only focus on close ties, but also consider relationships that have never materialized, highlighting their more traumatic and painful aspects.
In the works on show, Gaia Scaramella assembles natural and artificial materials, found objects, utensils and other elements borrowed from daily life – all traces or perhaps relics of existence. She weaves together a genuinely polyphonic discourse, one in which the elective character of the works is revealed by their serialisation.
By describing various facets of human symbiosis, the artist puts forward a range of different scenarios, all of which are united by the dual nature of the word 'bond' – that relationship or emotional tie which involves either mutual fidelity or the limitation of individual freedom.
'Tension' is another constitutive element within this geography of relationships, a concept not only understood as a physical and psychological state, but also as the action of 'tending towards' the other, an encounter in which the individual discovers and realizes themselves.
Treating memory and personal experience as active, living material, the artist offers an alternative to oblivion, to damnatio memoriae as a means of resolving the traumatic element, by way of a clear and conscious interpretation of human existence in its entirety and complexity.
The exhibition opening will also see the launch of a new publication exploring Gaia Scaramella's practice.
Read and download the exhibition's press release.
Gaia Scaramella was born on 18 February 1979 in Rome, where she lives and works.
Also in Rome, she attended arts high school and then the Academy of Fine Arts. 
Since 2000, her interest has been directed towards engraving and chalcographic printing; over the years painting, sculpture and installation have become her expressive language.
She has participated in numerous events, awards, talks, presentations, solo and group exhibitions, in Italy and abroad.
For a more complete artist profile, see the artist page.
more exhibitions.
more exhibitions by GAIA SCARAMELLA with STUDIO STEFANIA MISCETTI.
more catalogues.
more catalogues by GAIA SCARAMELLA with STUDIO STEFANIA MISCETTI.